Nine from Troy named "Great Teachers" by Joliet Chamber
3/10/2016, 11:29 a.m.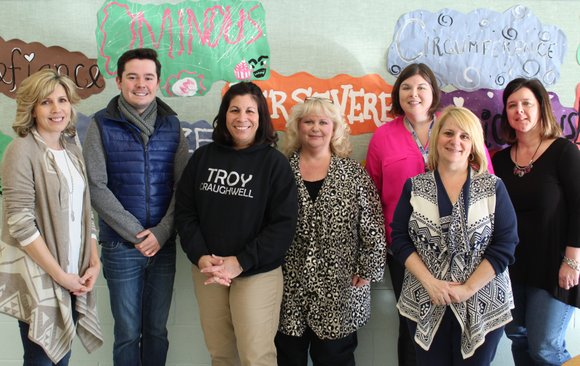 Nine out of the 30 "Joliet Area Great Teachers" selected this year by the Joliet Chamber of Commerce and Industry are educators at Troy Community School District 30-C. The teachers were chosen by the chamber's Education Committee and honored at a banquet at the Jacob Henry Mansion's Victorian Ballroom in February.
The Troy recipients are Misty Dillon, of Troy Crossroads Elementary; Matt Crawford, Trudie Howard and Christy McGovern, of Troy Craughwell Elementary; Jackie Brosi, of Troy Heritage Trail Elementary; Stephanie Adamowski, of Troy Hofer Elementary; Heather Elkins, of William B. Orenic Intermediate School; and Maureen Smith and Shari Pagel, of Troy Middle School.
"We are proud of our teachers who received this great honor," said Troy District 30-C Superintendent Dr. Todd Koehl," and we thank those who took the time to nominate them and build that relationship. What makes the Joliet Area Great Teachers nomination so powerful is that it can be made by students, parents, colleagues, or community members. The recognition centers on the impact the teacher has on the person who nominates them. This singular reason means that teachers are recognized for any number of gifts they have. In the end, though, the overwhelming trait is the ability to build relationships."

The chamber's program, begun in 2008, recognizes educators who have instilled in students a desire to learn and achieve, among other criteria.