Primary voter turnout matches 2008 highs, voters say 'no' to most referendums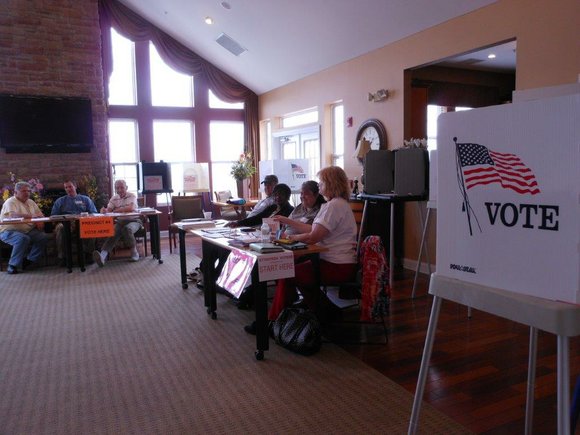 Voter turnout in Tuesday night's primary election attracted a record number of voters to the polls to cast ballots for races to pick Presidential candidates as well as some state and county-wide offices.
Of Will County's nearly 400,000 registered voters, over 43% came out to cast 173,000 ballots.
That didn't translate into good news however for some of the referendums on the ballot which were mostly defeated by voters.
Despite an organized effort to sell the merits of building a new $39 million library in Plainfield, voters rejected two ballot questions that would have authorized the sale of bonds for the construction and another that would have increased the tax rate to operate it.
Of the 18,389 votes cast for the referendum, just over 10,000 (55%) said 'no' to the bond issue and over 12,000 (69%) said 'no' to the limiting rate increase for operation.
A release from the library on Tuesday said that trustees would meet on Wednesday night to plot the course for the future and that a series of open houses would "provide residents with an opportunity to express their opinions and priorities for the Library's next steps."
A referendum to increase the limiting rate to update and modernize the White Oak Library in Romeoville also failed with 65% of voters voting against it.
In nearby Lockport, a referendum for the Taft School District 90 to increase the limiting rate from 3.1% to 4.2% also was defeated at the polls with 55% voting against.
Not all referendums failed at the ballot box Tuesday. A referendum question that will limit the mayor in Homer Glen to two, 4-year terms was overwhelmingly approved with just over 89% of the vote.

A referendum question that would raise the tax rate to replace aging fire equipment for the Northwest Homer Fire Protection District also eked out a slim victory Tuesday by just 74 votes.
A referendum in Homer Township requiring voter approval for any tax increases also saw broad support with 87% voting for the non-binding referendum.
In county-wide elections, first time candidate Andrea Lynn Chasteen won 68% of the vote in the Democratic primary for Will County Circuit Clerk. Chasteen was endorsed by 5-term clerk Pam McGuire who announced that she was stepping down last year. Chasteen will face Republican Marlene Carlson in the November election.
In Will County's District 1, Republicans Judy Ogalla (incumbent) and Natalie Murawski will likely face Democrats Laurie Summer and Robert Howard (incumbent) who were the top vote getters.
In District 13, Republicans Tim Kraulidis and Brenda Morse will face Democrats Bill Thoman and Mark Ferry (incumbent) on the fall ballot.
In congressional races, Democrat Jim Walz will face incumbent republican Randy Hultgren in the 14th District and Republican Nick Stella will go up against Democratic incumbent Bill Foster in the 11th.
Despite winning the state of Illinois, Democratic Presidential hopeful Hillary Clinton lost to U.S. Congressman Bernie Sanders in Will County by just over 4500 votes.
A final tally of all election results will be certified on April 5 according to the Will County Clerk's website. Absentee ballots postmarked by midnight, March 14 and all provisional ballots will be counted on March 29.