Local recording artist shares personal journey in new CD
Madhu Mayer | 3/30/2016, 4:32 p.m.
She has performed in front of such superstars as R. Kelly, Mary J. Blige and Public Enemy, but Trista Graves-Brown is most proud not of her musical achievements, but for being a native of Joliet.
At an age when most people are slowing down, Brown, who will turn 56 on April 8, has released her third CD, titled "Behind the Lipstick Unveiled." The disc features 11 personal songs, which details her personal journey from tragedy to triumph.
"This disc is a story of my life," shared the mother who has been singing since she was 3 years old. One particular song, "Butterfly," chronicles her multiple bouts with cancer, including in her esophagus.
"I had seven different types of cancer during my life," she said. "I also broke my neck at one point. The reason I sing is because I want my music to be hopeful and resonate with other people. Behind all of the music is a message for people to pursue their dreams."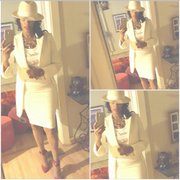 Graves, who is one of 11 children and the mother of two and grandmother of one boy, said she has been on the stage since childhood. She even competed on the 1980s popular variety show, "Star Search." Though she did not win after performing En Vogue's song "Hold On," Brown took that experience and advanced her career.
"Still to this day, I am nervous when I perform," said Brown, who describes herself as an inspirational singer. She said her songs are a cross between gospel and rhythm and blues, comparing her musical style to performers like Yolanda Adams, Mary Mary and Kirk Franklin.
"Though it is gospel, it does have an edge to it," she said.
After releasing her first single, "I'm Shining," on March 12, Brown is looking forward to her CD release party the evening of May 21 at the Clarion Hotel, 411 S. Larkin Ave., Joliet.
The cancer survivor who continues to call Joliet home said she is not apprehensive about whether the audience will embrace her music and life stories.
During the 80's, Trista was a member of a local all girls group called Look, But Don't Touch. The group was an opening act for several acts that performed at the Rosemont Theater, including the popular hip-hop group Naughty by Nature.
Over the years, Brown said her musical styles have changed, but not her message.
"I want to continue my family's legacy of inspiring others," she said. "One of the songs on the CD, 'Celebration' is just about celebrating life. Most of my songs come from my life's experiences."
Once the release party is over, Brown said people can buy her CD on the Internet or through iTunes.
"I am so proud to be a native of Joliet," shared the woman whose sister, Marcella Graves, was the first Miss Black Joliet in 1970. "There are a lot of inspirational people here. Lets put Joliet on the map."
Besides performing at her CD release party, look for Brown to sing with her nephews at Soldier Field in Chicago on Friday, April 15. They are members of Hypnotic Brass Ensemble, also known as The Bad Boys of Jazz. They are an eight-piece, Chicago-based brass ensemble consisting of eight sons of jazz trumpeter Phil Cochran. Their musical style ranges from hip hop to jazz to funk to rock.