Joliet man sentenced to 12 years for slashing former girlfriend
5/4/2016, 1:59 p.m.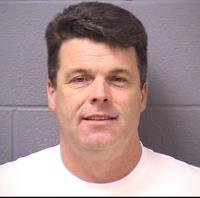 Will County State's Attorney James Glasgow announces that a Joliet man found guilty of attempted first-degree murder for the brutal knife attack against his former girlfriend in 2009 has been sentenced to 12 years in prison.
Circuit Judge Amy Bertani-Tomczak sentenced Bradley Schlott, 48, on Wednesday. A jury deliberated for three hours before finding Bradley Schlott, 48, guilty of attempted first-degree murder at the conclusion of a five-day trial in March.
Schlott brutally attacked his former girlfriend on the morning of March 12, 2009 while she was getting ready for work in the Joliet house they shared.
Schlott, who believed the victim was having an affair, repeatedly punched her in the face, grabbed her by the hair, and threw her to the ground. With his knees on her chest, he began to choke her before producing a large hunting knife from behind his back. He used that knife to cut away chunks of her hair before he sliced her neck and the side of her left breast.
During the attack, the victim convinced Schlott to call 911 by telling him she would say her injuries were the result of an accident. A physician testified at trial that she would have died had she not been treated.
"This was a savage attack by a weak and jealous man who lashed out when he felt he could no longer control his girlfriend," State's Attorney Glasgow said. "This courageous woman fought back and not only saved her own life, but she helped police and prosecutors put this monster behind bars."
Assistant State's Attorneys Tricia McKenna and Marie Griffin presented evidence at trial, including letters written by Schlott, to prove he intended to kill his girlfriend. One letter to the victim's father, mother, and brother apologized for her murder and alleged that she was cheating and had robbed him of his money, family, career, dignity and sanity. The letters shattered the defense attorney's theory that Schlott attacked his girlfriend after he had become involuntarily intoxicated on prescription medication he was using to treat his depression.