Prayer group celebrates 5th anniversary
5/4/2016, 3:45 p.m.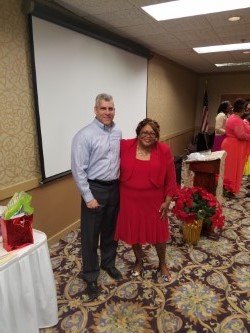 Igniting The Fire Prayer Ministry celebrated its fifth anniversary during a service held on April 28 at the Clarion Hotel in Joliet titled "Guarding City, State and National Gates through Prayer."
Joliet Mayor Bob O'Dekirk attended the event and joined in the prayer for the city of champions—the city's nickname— which was organized by center founder and minister Ora Holloway.
The center teaches the gospel and leads prayer services and special events for cities and other municipal organizations.
Holloway is also the founder of Touching Lives Soul Outreach, a humanitarian relief and outreach organization which strives to strengthen families, conquer poverty, assist the homeless and empower men and women to live productive lives.
The organization promotes "a culture of prayer not just prayer in the church on Sunday."
The group will hold a prayer walk on Saturday, May 28, starting at 11:45 a.m. at the Will County Adult Detention center's visitation center, 20 S. Chicago St in Joliet.
Residents are invited to participate "and help us pray for our leaders and nation."
Photo caption:
Joliet Mayor Bob O'Dekirk and Ora Holloway at the fifth annual "Guarding City Gates" conference.