County health department sees impending layoffs coming May 27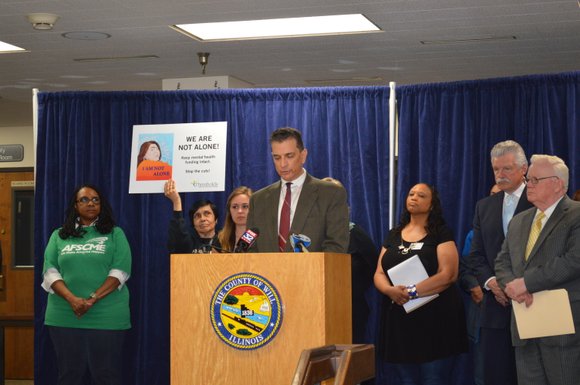 Bob Talkie came to the Will County behavioral health services program 15 years ago in need of help.
"I was in the depths of a major depressive disorder," Talkie recounted Monday during a press conference at the Will County government building.
The counselor who met with him recognized his need for medication and he was referred to a psychiatrist where he began a course of treatment and counselling.
"Slowly I started to recover," he said.
At the time, Talkie said that financial concerns pointed him toward seeking help with the County health department where he's found the support of empathetic doctors, counselors and staff.
"If not for the services that I received there I would not be here," he said.
He's continued his treatment with the department and hopes that state legislators and Will County representatives will be able to find a way to prevent the planned layoffs of over 50 health department employees on May 27.
"I pray that this good work continues," he said.
The impending layoffs are due to the ongoing budget stalemate in Springfield as the state enters its eleventh month without a budget.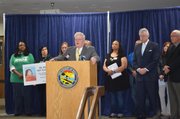 Dave Delrose, president of AFSCME Local 128, the union that represents county health workers said that the results of the layoffs would go beyond the loss of jobs.
The cuts will mean the loss of the county's tobacco control and prevention program, HIV prevention and education, family case management, vision and hearing screenings for schools as well the cuts to the county mental health services which provides service to 1800 adults around the county.
Will County Executive Larry Walsh said that the county board will look at finding a local solution with the hope that the state will finally work out a bipartisan end to the budget crisis.
Walsh said that board members are looking for a way to bridge the $2.1 million funding gap that is the result of payments owed from the state dating back to 2015.
"We're going to have to find a solution," said Walsh who said that the county doesn't stop clearing the roads if it runs out of salt during the winter.
A solution without layoffs, said Walsh, will be a "monumental cost" for the county however. Walsh said that he hopes that the county will eventually be reimbursed by the state but said that the county would forge ahead to find the funding needed to keep most programs in place.
"Our services are needed by our most vulnerable people," said Walsh.
Will County State's Attorney Jim Glasgow said that the funding issue places those who can solve the problem at the state and county level at a "moral crossroads."
Glasgow said that the Will County adult detention center has taken on the responsibility for mental health patients as demand has risen and wait times have increased.
"Our jail is becoming a mini mental health center," said Glasgow who said that his office is seeing more offenders coming through the court system because they can't get access to help and medication to manage their conditions.
"That's beyond sinful," said Glasgow.
Will County Sheriff Mike Kelly said that some estimates place the number of prison inmates with some form of mental health needs at around 20% nationally. That could mean up to 160 inmates in Will County custody who suffer from some form of mental illness.
The problem, if left unchecked, mean higher rates of crime and higher rates of recidivism for those convicted after they're released.
"It's a lose-lose for Will County," said Kelly.
State Senator Pat McGuire said that the legislature is working on a bill (SB2047) that would appropriate $272 million to the Illinois Department of Human Services.
McGuire said that he hopes the bill will get the same bipartisan support that a similar bill that provided funds for 9 Illinois public universities received in April.
"This crisis that faces so many thousands of Will County residents transcends politics," said McGuire.