Goodman Theatre The Sign in Sidney Brustein's Window
5/11/2016, 3:36 p.m.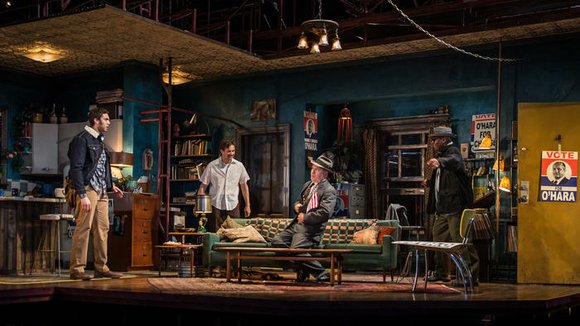 A rare theatrical and literary treasure is on display now through June 5 at
Goodman Theatre Chicago. Lorraine Hansberry's seldom-produced final tome,
The Sign in Sidney Brustein's Window, is on stage in a stellar production
directed by Obie Award winning and Goodman veteran Anne Kauffman
(Smokefall, 2014/15 and 2013/14 seasons).
With a superb cast led by Off Broadway's Chris Stack as the idealistic
title character, Sidney Brustein, and his wife, struggling actress Iris,
played by Diane Davis, in her Goodman debut, this play affirms Hansberry
as one of the most important theatrical voices of her time.
Hansberry was already battling the pancreatic cancer that would end her
life when the play debuted on Broadway in 1964 to mixed reviews. It ceased
production shortly after her death in 1965 at the tender age of 34, after
playing just over a hundred performances.
A product of Englewood High School and Chicago's Washington Park
neighborhood on the South Side, Hansberry is best known for her Obie Award
winning play A Raisin in the Sun, which mirrored the story of her own
family's effort to move into an all-white neighborhood in racially
segregated 1950s Chicago.
"Brustein" is a very different vehicle altogether. It tells the story of
an idealistic, white radical writer, Sidney Brustein, and his struggles to
launch a left-wing community newspaper, and his wife, Iris, a waitress,
trying desperately to break into acting. The backdrop is the Bohemian West
Village of 1960s New York where Signey's walk up flat is ground zero for
left wing thought and a freewheeling, booze-tinged lifestyle. It is also
the unofficial campaign headquarters to the political campaign of a good
friend, posing as a reform candidate in a local election. Thus, the source
of the play's title, a sign in Sidney's apartment window that reads "Vote
Reform."
Political signs and slogans were the twitter and social media of 1960s
America. The sign in Sidney Brustein's window is both a call to action, and
the flashpoint for the social and personal devolution that is witnessed
onstage as Sidney, Iris and their mélange of characters battle the
individual and societal demons of their time.
Hansberry's wide-ranging, unwieldy script tackles a variety of hot button
issues that remain so, even more than a half-century later; homosexuality,
feminism and the social and sexual objectification of women, left wing
radicalism versus the urge to self-out for personal and political gain.
All of this unreels in a barrage of words, both singular and in ensemble,
spanning nearly three hours, while Sidney and Iris struggle to hold
together the fraying fabric of their marriage. It's all an uphill, futile
battle, but somehow there's hope and a glimmer of salvation, as seen from
the lofty perch at the top of the rickety fire escape that leads to the
rooftop above Sidney's apartment in a set masterfully crafted by Goodman
veteran Scenic Designer Kevin Depinet (Feathers and Teeth, Smokefall,
Brigadoon, The Iceman Cometh).