Goodman Theatre The Sign in Sidney Brustein's Window
5/11/2016, 3:36 p.m.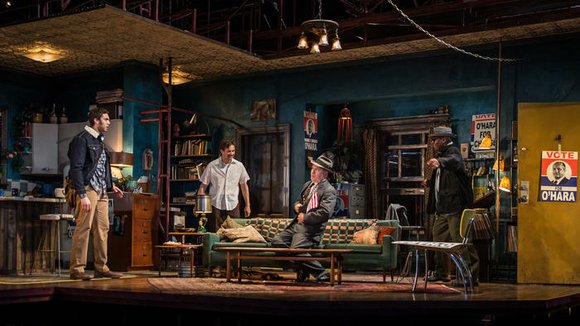 "Sign" is a talkfest, but there are some real verbal gems to be found among
the Tut's tomb jumble of words that somehow resonate with verity from this
'60s time capsule.
With costumes by Goodman veteran Alison Siple (Ask Aunt Susan and The
Hypocrites' The Hairy Ape for A Global Exploration: Eugene O'Neill in the
21st Century), lighting design by Broadway's Justin Townsend (American
Psycho, The Humans, Casa Valentina, A Night with Janis Joplin, among
others), and Sound Design by Goodman's Mikhail Fiksel (2666, Feathers and
Teeth, The Upstairs Concierge, and others), this ranks among Goodman's
landmark productions.
Hansberry portrays the social turmoil of her time through the voices of her
myriad characters. David (Grant James Varjas in his Goodman debut). is a
gay playwright who's wry barbs poke holes in the inflated pretentions of
Sidney and his menagerie of wise fools. Wally O'Hara (Red Orchid Theatre's
Jeff nominated Artistic Director Guy Van Swearingen), is the so-called
reform candidate, whose signs blanket Sidney's windows and fire escape. He
turns out to be a sell-out, who strives to reconcile his political
cowardice with pragmatism. Alton is a light-skinned African American,
(Goodman veteran Travis A. Knight, A Christmas Carol, Measure for Measure,
Camino Real) who passes for white on a whim, and is tragically in love with
Iris' sister, Mavis (Miriam Silverman, in her Goodman debut in a smashing
performance), a high class call girl. Iris' middle class sister, Gloria
(Kristen Magee, also in her Goodman debut), is the sage one ("There are no
squares. Everybody is his own hipster," she cavalierly declares as she
acknowledges her husband's infidelity and her begrudging tolerance of it).
Max (Philip Edward Van Lear, another Goodman veteran; Proof, Amen Corner, A
Christmas Carol, Blues for an Alabama Sky, Ties That Bind, Galileo), is a
struggling artist with a message far bigger than his underwhelming talent.
Touching and all too humanly pathetic, Sidney Brustein gives a voice to
that yearning spirit inside all of us that tries to make some sense of the
chaotic, yet terrifyingly beautiful mess that is life. "The world is to
crack down the middle," Sidney declares, in a moment of epiphany, as the
events of the play descend into tragedy. Those words were first uttered
on a Broadway stage some 50 or so years ago, but they still ring with
stunning clarity today.
The Sign in Sidney Brustein's Window runs through June 5. It is concurrent
with the citywide Lorraine Hansberry Celebration, which includes A Bus
Tour of her native South Side Chicago, a free screening of the film A
Raisin in the Sun, starring Sidney Poitier and Ruby Dee, as part of
"Lorraine Hansberry Day" in Chicago, and the Lorraine Hansberry Awards,
honoring the unique cultural contributions of five Lorraine Hansberry
Contemporaries, women who were raised and educated in Chicago who have made
indelible impacts on the American theater. For information, visit
GoodmanTheatre.org.