Route 66 classic to feature Will County vs. Grundy County grudge match
5/17/2016, 1:13 p.m.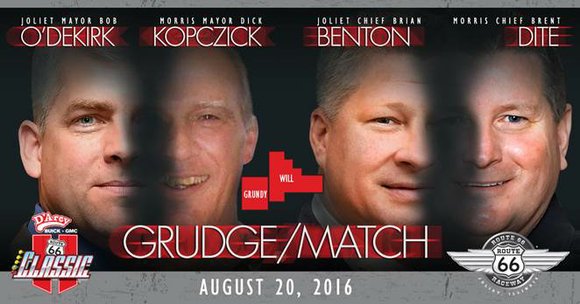 On august 20, the D'arcy Buick GMC route 66 classic returns to Route 66 Raceway in an unprecedented manner to pay homage to early drag racing and hot rod culture. Featuring nostalgia match racing including funny cars, gassers and pro stocks and a classic car cruise-in, the Route 66 Classic is a quarter-mile blast down memory lane. Fans walking into the facility will take a step back in time to the age of poodle skirts, pin-up girls, sock hops, hood ornaments and white walls.
Grudge Matches
On the track, attendees will watch as counties clash on the quarter-mile during the Will County vs. Grundy County Grudge Matches. The Mayor of Morris, Richard Kopczick, will go head-to-head with the Mayor of Joliet, Bob O'Dekirk, followed by Police Chiefs Brent Dite (Morris) and Brian Benton (Joliet) facing off. The city matches will conclude will a dual between Joliet Fire Chief, Joe Formhals, and Morris Fire Chief, Tracey Steffes. Then, Will County Sheriff, Mike Kelley, and Grundy County Sheriff, Kevin Callahan, will hit the track for the final county competition. This portion of the event will feature a charity component as well.
Classic Car Cruise-In Featuring Garage Squad
Spectators and fans are encouraged to bring out their vintage vehicles to participate in the Classic Cruise-In. Attendees who pull up in any antique automobiles, 1979 and older, can purchase a space in the cruise-in for just $20 which includes a free admission to the event.
Alongside the parade participant cars, Velocity Network's hit show, Garage Squad, will display a variety of vehicles they have brought back to the road after setting up shop in garages across Chicagoland.
Bug-A-Palooza
In addition to the Classic Cruise-In, the Harsh Winters VW Club will have over 150 Volkswagens on exhibit. The main mission of Harsh Winters VW Club is to give VW enthusiasts a place to share their passion of these vehicles with other enthusiasts. Club members believe in having fun by engaging in activities as a group, and sharing their technical abilities and experiences with other enthusiasts.
On-Track Content
Nitro drag racers, nostalgia funny cars, a jet car and over 200 other vehicles, all 1979 and older, will take passes during the D'Arcy Buick GMC Route 66 Classic.
Entertainment
Your favorite sock hops tunes from the 40's, 50's and more will glide through the speakers throughout the day followed by a concert from ARRA, one of the best classic rock cover bands in the Chicagoland area. With precision and excellence, ARRA performs the most memorable hits by the most legendary bands of all time. Their unparalleled vocal harmonies paired with incredible musicianship has brought the band to where they are today –one of the most sought-after club and festival acts in the Chicago area.
Beer Garden
The 'soda fountain' of the modern era, this unique section will offer exclusive activities including a fully-stocked port-a-bar for the 21-and-older crowd.
90th Anniversary of Route 66
Established in 1926, Route 66 was one of the original arteries in the United States Highway System. In the years that followed its creation, US-66 became one of the most famous roads in America earning nicknames such as the "Mother Road" and "Main Street of America." In honor of the 90th Anniversary of this historic highway, all attendees who were born in 1926, the inaugural year of the Mother Road, will be given free admission with valid photo ID.
Tickets for the 2016 events at Route 66 Raceway are on sale now and will be available by visiting www.Route66Raceway.com or by calling (888) 629-RACE.

The 2016 schedule of events at Route 66 Raceway and the Dirt Oval at Route 66 is as follows:
Schedule of events
May 22 Import Face-Off
May 28 Team Demolition Derby Round 1
June 4 Four Seasons Heating, Air Conditioning and Plumbing Burndown at Sundown!
June 10 -11 TORC: The Off-Road Championship
June 25 Team Demolition Derby Round 2
July 7-10 Route 66 NHRA Nationals
July 23 Team Demolition Derby Round 3
August 6 3rd Annual Monster Mayhem
August 20 D'Arcy Buick GMC Route 66 Classic
August 27 Team Demolition Derby Round 4
September 4 Crash Fest
September 24 Team Demolition Derby Round 5
October 8 Eve of Haunted Destruction