Joliet approves agreement with Metra for multimodal, road improvement projects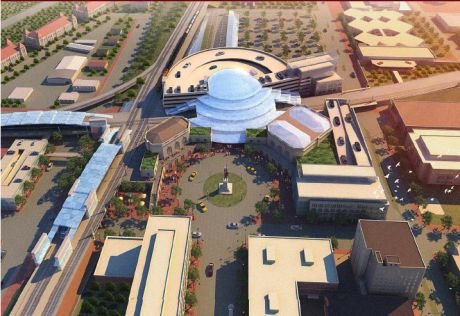 The City of Joliet has approved an intergovernmental agreement with Metra that will help defray some of the added costs caused by delays to its multi-modal transportation station downtown.
Deputy City Manager Steve Jones said that the city was trying to make the "finances work" for the project after bids came in high for some of the work.
The new agreement with Metra will provide a $99,000 grant for agreed upon improvements to the station with just over $65,000 earmarked for the construction of a new signal building.
The new 7200 square foot building will house Metra employees once it's completed according to city documents.
Included in the grant will be just over $24,000 to maintain the current designs for canopies at the station. Jones said that the city looked at shortening the structures to save money on the project but that Metra agreed to pay to keep the current dimensions. The remaining $8,000 will cover design expenses.
The money from the agreement will save funds the city will receive from a $30 million grant from the state that is being used to fund the bulk of the project.
Last month the city learned that the state wouldn't pick up the tab to pay a construction manager for the project potentially adding an additional $660,000 expense.
The project was already delayed in October 2015 when state funding for the $30 million grant looked to be in question. Questions still remain regarding a funding gap for the PACE Bus portion of the project which could run as much as $3.4 million.
The city also approved the use of Motor Fuel Tax (MFT) funds for several street improvement projects this week.
The city authorized the use of $214,000 for engineering work for the widening of the intersection of Essington Road at Black Road.
The city had previously applied for federal funding through the Will County Governmental League for the project but was passed over.
The busy road way sees an average of 16,000 cars travel through it each day.
Public works director Jim Trizna said that improvements at the intersection would include adding 6 feet on each side of the roadway to create a 5 lane cross section in each direction.
Trizna said that the city would get engineering and environmental studies completed in order to present it for the next round of funding in 2018. He said the project's construction wouldn't begin until at least 2019 if funding is approved.
The city also approved just over $742,000 in MFT funds to be used for street improvements on Frank Avenue, Washington Street over Hickory Creek, Mason and Mayfield Avenues.