Grilled Caesar Salad with Shrimp
5/24/2016, 3:49 p.m.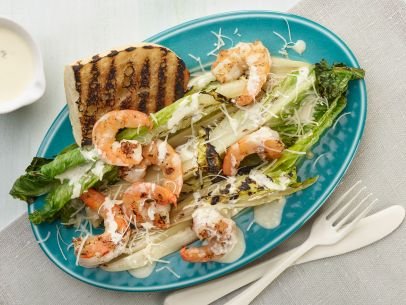 SERVINGS: 4
Ingredients
1/2 cup mayonnaise
1/4 cup plus 1 tablespoon extra-virgin olive oil
3 anchovies packed in oil, finely minced
2 small cloves garlic, grated
Zest and juice of 2 lemons (about 2 tablespoons of zest and 1/3 cup juice)
Freshly ground black pepper
2 ounces Parmesan, finely grated (about 1 1/2 cups lightly packed)
Kosher salt
3 romaine hearts
1 pound large shrimp, peeled, deveined and tails removed
One 12-inch French baguette, halved lengthwise
Directions
Whisk together the mayonnaise, 1/4 cup of the oil, the anchovies, garlic, lemon zest and juice and 1/2 teaspoon freshly ground black pepper in a mixing bowl. Add 1 cup of the Parmesan and stir to combine. Season to taste with salt and pepper.
Preheat a large grill pan or outdoor grill over high heat. Cut the romaine in quarters lengthwise, leaving some of the stem attached to each quarter. Brush the cut sides of the romaine with 1/4 cup of the Caesar dressing and place cut-side down on the grill. Grill until the first side is lightly charred, about 1 minute, then turn to the other cut side and cook until lightly charred, about 1 additional minute. Do not crowd the grill, leaving 1/2-inch of space between each quarter of romaine; grill in batches if needed.
Toss the shrimp with the remaining 1 tablespoon oil and sprinkle lightly with salt and pepper. Grill the shrimp until lightly charred in spots on both sides and just cooked through, 1 to 2 minutes per side. Transfer to a mixing bowl and toss with 1 tablespoon of the Caesar dressing.
Brush the inside of the baguette with 1/4 cup of the Caesar dressing and place cut-side down on the grill. Cook until lightly charred and warmed through, about 2 minutes. Cut each piece of baguette in half lengthwise and then crosswise so you have a total of 8 large breadsticks.
Divide the grilled romaine among 4 large plates. Scatter an equal amount of shrimp on each plate. Thin out the remaining dressing with 2 teaspoons water and drizzle over the grilled romaine and shrimp. Sprinkle with the remaining Parmesan and serve with the grilled bread.