Rialto celebrates its 90th anniversary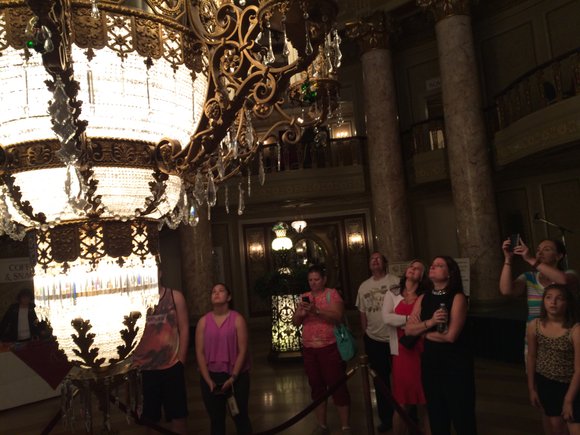 The Rialto Square Theater threw open its doors Wednesday to celebrate its 90th birthday and give the general public a glimpse of what makes the historic former movie palace "the jewel of Joliet."
And after a turbulent year in which its general manager was fired, and funding seemed to always be evaporating, Wednesday's celebration focused on the glitz,opulence, and the collective memories that have sustained the historic theater for almost a century.
The theater opened as a movie palace in 1926. At the time, volunteer Gary White said that it cost the six Rubens Brothers around $2.5 million to construct.
For Wednesday's open house, visitors got a chance to see one of the theater's center pieces, the 2.5 ton chandelier, nicknamed "The Duchess" up close as it was lowered to eye level in to the center of the lobby.
White said that the chandelier is the largest one of its kind in the United States, the 7th largest in the world. It was a relative bargain back when the theater opened, costing around $10,000. Today he said that the theater couldn't replace it for less than $3 million.
He said that the theater fell on hard times in the 1960s and eventually closed altogether in 1977 before reopening in 1981.
During its heyday the theater offered such amenities as steel construction that made it safer from fire than wood constructed buildings of the day. It also had such modern features as air conditioning and central vacuum.
There were also no bad seats in the house as it was the first of its kind to be constructed without support pillars inside the theater space to block any views.
Today the theater is kept running by a dedicated group of about 200 volunteers and it takes about 60 of them to put on one show.
One of those volunteers, Don Young, plays the venues pipe organ. An organist for the past 60 years, the Shorewood resident said that he's been volunteering his services at the Rialto's keyboard for about 8 years. He said he got involved through the Joliet Area Theater Organ Enthusiasts club whose volunteers not only play the instrument but also help keep it in tune and maintained.
"It gives you a warm feeling," he said seeing first-time visitors tour the theater.
Young said that he remembered coming to the theater with his father as a boy, never missing a chance to see a Dean Martin and Jerry Lewis movie, back when tickets were around 50 cents.
Nostalgia and a history with the theater drive many residents to come back to volunteer.
For White, the theater was the place he had his first date with his wife, when they took in a showing of the Yule Brenner flick, "The Magnificent 7."
As he showed a tour group the spot on the stage where stars have stood for the last 90 years he recalled what Liberace said when he first saw the Rialto's opulent interior.
"At last a theater to match my wardrobe," he recalled.