Shorewood Lions Club April students of the month
5/26/2016, 10:21 a.m.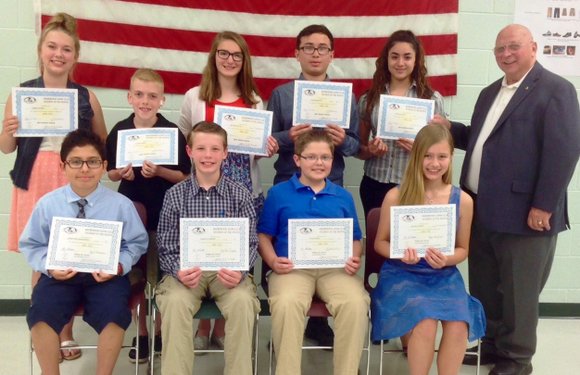 The Shorewood Lions Club recognized Troy Community School District 30-C Students of the Month for April 2016. The students were recognized at the school district's May school board meeting.
Chairman of the Shorewood Lions Student of the Month Program, James S. McDonald, at his last presentation meeting, said the students were selected on the basis of consistent effort, productive citizenship, positive attitude, participation in class and advisory team.
The Students of the Month are W.B. Orenic Intermediate School 6th-graders Jonathan Arredondo, son of Ayde Mendez; Aidan O'Connor, son of John and Lori O'Connor; Tyler Langs, son of Jason Langs, and Tiffany Trizna.
Troy Middle School Student of the Month 7th-graders are Emily Pantoja, daughter of Jose and Yesenia Pantoja; Emma Schield, daughter of Gene and Lisa Schield; Joseph Baird, son of Amy Baird; Osiris Gallarzo, son of Jose and Maria Gallarzo; and Brynn Resuali, daughter of Robert and Angela Resuali.
Troy Middle School 8th-grade Students of the Month are Julian Rosenbach, daughter of Dawn Rosenbach; Issac Mackan, son of Elvis and Samantha Pressley; Tania Ortega, daughter of Rigoberto and Hilda Ortega; Natalia Boria, daughter of Anthony and Giomara Boria, and Madison Maynard, daughter of Lesley and Tom Tuton.
In addition to certificates from both sponsors, the students also received awards from local merchants Babes Hot Dogs Restaurant, McDonalds Restaurant, Pizza for U Restaurant and Buffalo Wild Wings Restaurant.
Contact Jim McDonald at Dimac13@comcast.net for further information.