Plainfield history comes to life for Charles Reed third graders
5/27/2016, 11:17 a.m.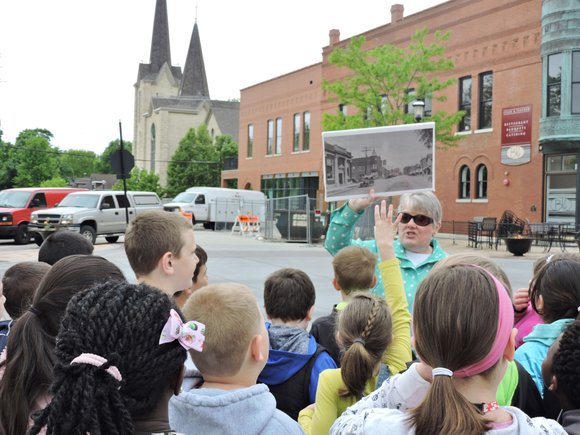 Charles Reed Elementary School third graders peered into Plainfield's past while standing in its present during a tour of the village's downtown.
Volunteer guides held up large photos showing the downtown Plainfield streetscape in the 1800s and talked about how the village came to be and shared stories about the its history.
The historical tours now culminate District 202 third graders' study of Plainfield, Joliet or Bolingbrook history, depending on what school the students attend. Joliet-area third grader can visit the Joliet Area Historical Museum instead of touring downtown Plainfield.
District 202 partnered with the Plainfield Historical Society in 2010 to create local history curriculum units about Plainfield, Joliet and Bolingbrook for third grade teachers, said Joan Woolwine, Director of Elementary Curriculum and Instruction.
The curriculum was added to the third grade social studies textbook in 2013. Members of the Plainfield Historical Society, District 202 and the textbook publisher Pearson worked together to customize the actual textbook that students use.
The local history chapter starts with a page about the late Elizabeth "Bess" Eichelberger, a local icon who was active in District 202 and the community. She was the first female president of the Board of Education.
The rest of the chapter includes three teaching units spanning settlement by the Potawatomi Native American tribe, to the first white settlers in the early 1800s, to the devastating tornado in August 1990 that destroyed much of the town.
Fourteen of District 202's 17 elementary school were scheduled to take the downtown tours in May.
District 202's Foundation for Excellence pays for Transportation to downtown Plainfield and entrance to the Joliet museum. The Foundation is a non-profit organization dedicated to supporting education in District 202.
Charles Reed Elementary School third grade teacher Kelly Hatzer's class toured downtown Plainfield on May 17th.
Her students really enjoyed learning about Plainfield's history and especially enjoyed seeing a photo of their school in the textbook, Hatzer said.
"I personally think this is a very valuable part of our social studies curriculum as it gives the students a sense of ownership and pride in their hometown," Hatzer said.