Pasta Salad with Salami, Carrots, Peas and Roasted Red Peppers
5/31/2016, 5:11 p.m.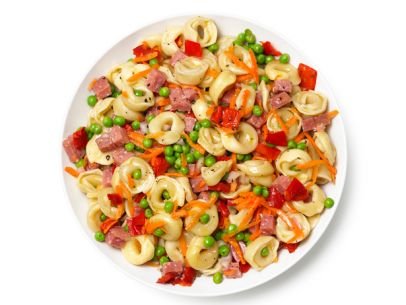 Ingredients
Kosher salt
1/2 pound tortellini
1 cup cubed salami
1 cup shredded carrots
1 cup frozen peas or snap peas, blanched
1/2 cup chopped roasted red peppers
1/3 cup extra-virgin olive oil
2 tablespoons white wine vinegar
1 shallot, minced
Freshly ground pepper
Directions
Bring a large pot of salted water to a boil. Add the tortellini and cook as the label directs; drain and rinse under cold water. Transfer to a large bowl.
Add the salami, carrots, peas and roasted red peppers to the bowl with the tortellini.
Make the dressing: Whisk the olive oil, white wine vinegar, shallot, 1/2 teaspoon salt and pepper to taste in a bowl. Pour over the pasta salad and toss to coat. Season with salt and pepper. Chill for up to 3 hours.