County voters head to the polls in less than one week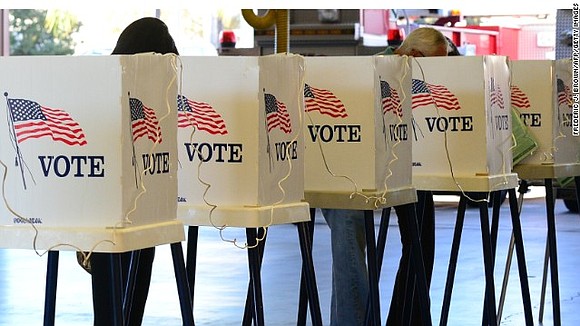 With less than a week to go until the 2016 Presidential election, voters in Will County can avoid potentially long lines at the polls on November 8 by casting a ballot early.
Voters have up to November 7, the day before the election, to cast a ballot early at the Will County Clerk's office, 302 N Chicago St., in downtown Joliet where they can also cast early ballots this weekend on Saturday, November 5 from 8:30 a.m. to 2 p.m.
Will County residents can also cast a ballot closer to home until November 4 at one of 20 early voting sites around the county.
In addition to choosing a new President, voters will be deciding on leadership closer to home with County Executive Larry Walsh up for re-election along with 16 Will County Board seats as well as contests for Circuit Court Clerk, Recorder of Deeds, County Auditor and 4 referendums.
To help voters make their decision for county-wide races, if you haven't voted yet, The Times Weekly has sent out surveys to candidates running for County Executive, Circuit Court Clerk, Recorder of Deeds and County Auditor races. The answers to those surveys can be found below and on our website, thetimesweekly.com.
Laurie McPhillips, candidate for Will County Executive: http://thetimesweekly.com/news/2016/nov/03/candidate-questionnaire-laurie-mcphillips-candidat/
Andrea Lynn Chasteen, candidate for Will County Circuit Clerk: http://thetimesweekly.com/news/2016/nov/03/candidate-questionnaire-andrea-lynn-chasteen-candi/
Kristin Cross, republican candidate for Will County Recorder of Deeds:http://thetimesweekly.com/news/2016/nov/03/candidate-questionnaire-kristin-cross-republican-c/
In addition to the Will County Clerk's office, 302 N. Chicago St., other locations around the county offering early voting until November 4 include:
City of Braidwood – 141 W. Main St., Braidwood – (City of Braidwood residents only)
City of Wilmington – 1165 S. Water St., Wilmington
Crete Township – 1367 Wood St., Crete
Frankfort Township – 11000 W. Lincoln Hwy., Frankfort – (Frankfort Township residents only)
Homer Township – 14350 W. 151st St., Homer Glen
Lockport Township – 222 E. 9th St., Lockport
Troy Township – 25448 W. Seil Rd., Shorewood – (Troy Township residents only)
Village of Channahon – 24555 S. Navajo Dr., Channahon – (Village of Channahon & Channahon Township only)
Village of Elwood – 401 E. Mississippi Ave., Elwood
Village of Frankfort – 432 W. Nebraska St., Frankfort
Village of Homer Glen – 14240 W. 151st St., Homer Glen
Village of Manhattan – 260 Market Pl, Manhattan – (Village of Manhattan & Manhattan Township only)
Village of Mokena – 11004 Carpenter St., Mokena – (Village of Mokena residents only)
Village of Monee – 5130 w. Court St., Monee
Village of New Lenox – 1 Veterans Pkwy., New Lenox – (Village of New Lenox & New Lenox Township only)
Village of Peotone – 208 E. Main St., Peotone – (Peotone, Will, & Wilton Townships only)
Village of Plainfield – 24401 W. Lockport St., Plainfield – (Village of Plainfield & Plainfield Township only)
Village of Romeoville – 1050 W. Romeo Rd., Romeoville – (Village of Romeoville residents only)
Village of Shorewood – 1 Towne Center Blvd., Shorewood – (Village of Shorewood residents only)
Washington Township – 30200 Town Center Rd., Beecher