Homer Township: Cartooning basics
11/3/2016, 8 a.m.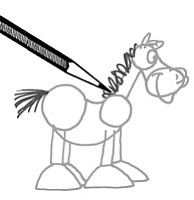 Cartoonist Charles Welch will speak at The Lemont Artists Guild on November 16 at 7 p.m. at the Homer Township Public Library, 14320 W 151st St. in Homer Glen.
Welch's presentation will cover the cartoon basics as well as talk about creating storylines and developing characters.
Welch spent his career working in advertising and animation. He currently teaches adults, teens and children at College of DuPage and DuPage art league.
He invites meeting participants to bring art materials to draw along with him during his demonstration.
The meeting is open to the public who are asked to bring a donation for the local food pantry.
Parking is free and refreshments will be served.
For more information call Lemont Artists Guild president Liz Popp at (815) 341-1145 or www.lemontartistsguild.org.