Immigration organization getting vote out in Bolingbrook and Romeoville
Alex Ortiz | 11/3/2016, 3:45 p.m.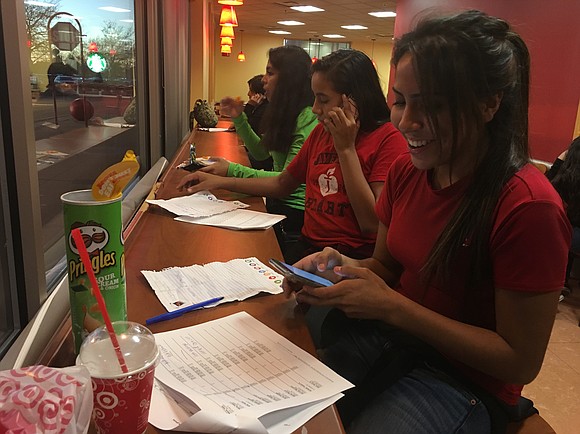 In the 2012 election, only 48 percent of eligible Latinx (pronounced "La-TEEN-ex.")* voters actually came out to vote, and 71 percent of those voters cast their ballots for President Barack Obama. Part of what many Latinx voters wanted from him was comprehensive immigration reform.
It failed.
But there has been progress that many local Latinx voters want to hold onto and continue. That is why the 2016 election is "crucial" for groups like the Southwest Suburban Immigrant Project (SSIP) in Bolingbrook.
The nonprofit organization works for immigrant rights mostly in Bolingbrook and Romeoville "through education, civic engagement, and advocacy." While the comprehensive immigration reform movement has had its starts and stops, the group has focused itself on getting people to the polls.
Nancy Garcia, the electoral organizer for SSIP, says that the workers and dozens of volunteers use publicly available information to find low-propensity voters, or voters who have only voted once in the last three election cycles. They then make phone calls and knock on doors to convince those people to cast their ballots.
"We definitely want to provide information to the community about the importance of going out to vote," Garcia said.
Volunteers as young as 13-17-year-old students have been calling registered locals to make sure they are going to vote.
The SSIP has also been driving people to the polls for early voting during the week before and up to election day on Tuesday, November 8.
However there are challenges to get out more than half of the eligible Latinx citizens this election. It comes down to helping non-English dominant immigrants, who tend to be older, and millennials.
"I think mainly it's just not enough access to information," Garcia said. "Sometimes they are not able to access the internet and therefore they're not able to obtain information about the county they live in and early voting sites or hours.
"The language is definitely an issue. [The voters] believe there's not enough literature in Spanish so I think language definitely plays a role."
So SSIP is there to get them the information they need in Spanish and in a non-partisan fashion.
For millennial Latinx voters, the issue isn't so much a lack of access to information, but a lack of enthusiasm over the political process.
"They believe that their vote does not count," Garcia said. "And it's important to remind them that it's not only presidential elections, but positions statewide."
Garcia also says that SSIP likes to present an issue-by-issue case for millennials to vote. They will ask them what they think about a particular issue and what they feel is a solution to that issue. That way, they can try to find different ways for these younger voters to get involved around issues that they and their friends and families care about.
"This election is very important and we actually want people to realize the importance of this election," she said. "And understand that in order to help make a difference or hold their representatives accountable…they need to actually go ahead a vote."
If you are interested in volunteering on Election Day, you can email ngarcia@ssipchicago.org to see how you can help.
*Latinx is a gender neutral designation derived from the more commonly used Latino and Latina and is used to denote people of Latin American descent.