Cheesy Mushroom and Broccoli Casserole
11/8/2016, 11 a.m.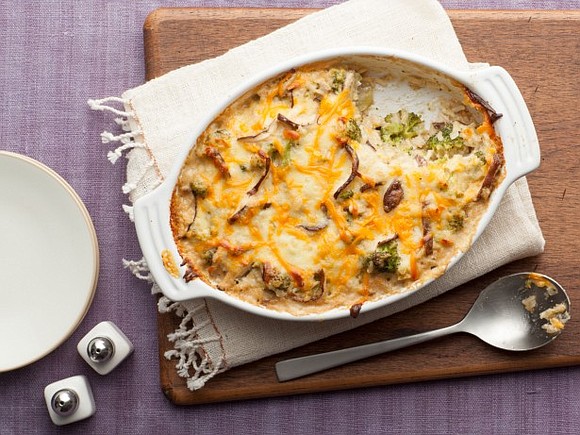 SERVINGS: 6-8
Ingredients
3 tablespoons butter, plus extra for casserole dish
2 tablespoons all-purpose flour
1/2 pound shiitake or baby bella mushrooms, sliced
1/4 cup onions, chopped
2 cloves garlic, finely chopped
1/2 teaspoon garlic powder
1/2 teaspoon cayenne pepper
1 1/2 cups heavy cream
1/2 cup chicken stock
1 (10-ounce) box frozen chopped broccoli, thawed and drained
2 cups shredded Cheddar-Monterey blend
3 cups cooked rice
Salt and freshly ground black pepper
Special equipment: 1 1/8-quart casserole dish
Directions
Preheat oven to 425 degrees F.
Butter casserole dish. In a large pot, melt 3 tablespoons butter and flour over medium heat until golden in color to make a quick roux. The roux should resemble the color of peanut butter. Add mushrooms, onion, garlic, garlic powder, cayenne pepper, heavy cream and chicken stock. Add broccoli, 1 cup of the cheese and rice. Season with salt and pepper, to taste. Pour into buttered dish and top with remaining shredded Cheddar. Bake until cheese is melted and golden, about 20 minutes.