Election 2016: Will County Republicans maintain board majority, Walsh re-elected for 4th term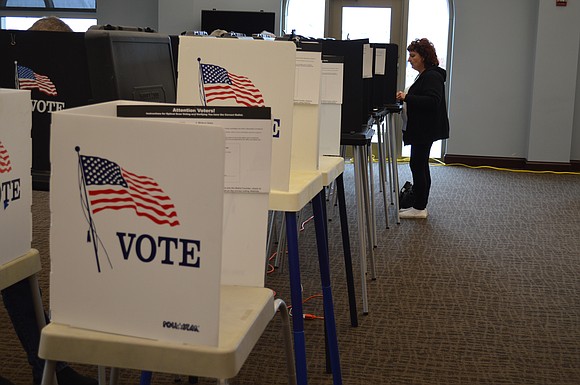 The finale of the 2016 Presidential election concluded on Tuesday night with a twist ending few saw coming.
Donald Trump, a political novice, who has never held elected office, won the U.S. Presidency, besting seasoned Democratic rival Hillary Clinton who entered the final week of the race with the presumptive edge in most national polls.
While the vote was still too close to call on Wednesday morning in Michigan and Minnesota, Trump had pushed passed the 270 Electoral College votes needed to clinch the win with 289 so far. Clinton was reported to have conceded the race in the early hours of November 9.
In Illinois as well as Will County, Clinton fared better with voters netting just over 49% of the vote in Will County to Trump's 44%.
Of the county's 411,240 registered voters, there were 296,800 ballots cast in the election with voter turnout at just over 72%, up slightly over the previous Presidential election in 2012 when just over 71% of voters cast ballots.
Absentee, grace, and provisional ballots will be counted on November 22 with the results officially being certified on November 29 according to the Will County Clerk's website.
The other big upset of the night included Senator Mark Kirk losing his senate seat to U.S. Representative Tammy Duckworth who beat the incumbent Republican with just over 50% of the vote to Kirk's 42%.
Other senate races included wins for incumbent Democrat Bill Foster who won re-election to his 11th District seat against opponent Tonia Khouri. That race was unevenly split 62% to 37% in the Will County vote tally.
State Races
In state races, incumbent Republican Representative Sue Rezin, who serves residents living in Joliet's western fringe 38th district bested Democratic challenger Christine Benson 64% to 35%.
In the 49th district, Democrat Jennifer Bertino-Tarrant won over 53% of the vote against Republican challenger Michelle Smith who netted 46% in Will County. Just over 5,000 votes separated Smith from victory when adding votes from Kendall County where she received just over 1400 more votes than Bertino-Tarrant.
In the 75th legislative district, which covers parts of Will and Kendall Counties, Republican David Allen Welter, who was appointed to the seat after the resignation of Rep. John Anthony in June, won just over 14,000 votes to democratic challenger Martha Shugart's 10,040.
County-Wide Races
Democratic circuit clerk Andrea Lynn Chasteen appeared to win her first race for office with a small lead of 50.7% over republican challenger Marlene Carlson's 49.3% vote count.
Democratic incumbent Karen Stukel also beat rival Kristin Cross for another term as Recorder of Deeds, 52% to 47.83%.
Incumbent auditor Kevin "Duffy" Blackburn edged Republican challenger Gary Good, 52.76% to 47.24%.
And County Executive Larry Walsh fended off a challenge from Republican Laurie McPhillips to win a fourth term in office. Walsh won just over 148,000 votes nabbing over 53% of the vote to McPhillips 130,436 (46.76%) votes.
Will County Board Races
Republicans will maintain their majority on the board, picking up one seat in District 10.