College sports roundup: Lewis men's basketball drops season opener
Alex Ortiz | 11/13/2016, 2:42 p.m.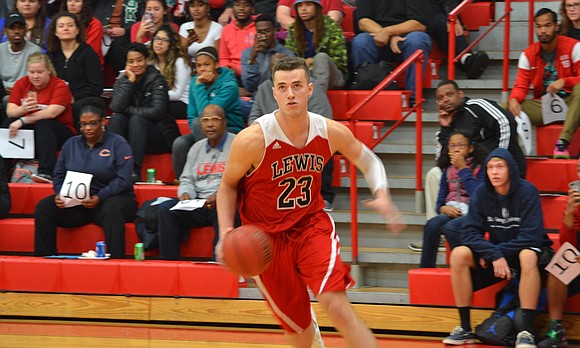 The Lewis men's basketball team (0-1) lost its season opener to Michigan Tech (1-0) 80-75 in overtime at Neil Carey Arena on Saturday.
Lewis sophomore Delaney Blaylock led the Flyers with 24 points and 11 rebounds. Freshman forward Anthony D'Avanzo recorded 11 points and 10 rebounds. Senior guard Miles Simelton scored 18 points which included four three-pointers.
Despite Lewis having a 45.5 percent to 36.9 percent lead in shooting and a 42-39 lead in rebounds, the team also committed 16 turnovers to Michigan Tech's 9.
Saint Francis football finishes season with a win at Olivet Nazarene
The Fighting Saints concluded the 2016 season with a 37-22 victory over Olivet Nazarene on Saturday.
Sophomore wide receiver Brandon Ruffi's six catches, 191 yards and two touchdowns capped off a record season. His 12 receiving touchdowns are the most since Troy Torrence in 2013, and his is only the second player in school history to earn more than 1,000 receiving yards. He'll finish with 1,020 for the year.
Sophomore quarterback Alex Alarcon went 15 for 32 with 312 yards passing and four touchdowns including two to junior Lexus Jackson.
While surrendering 394 offensive yards and 22 points, the Saints defense did collect five turnovers and limited Olivet Nazarene to 202 passing yards.
Saint Francis will end with an overall record of 5-6 and 2-3 in conference.
Fighting Saints volleyball earns conference tournament championship
With a win over Indiana University South Bend on Saturday, the Saint Francis volleyball team earned the 2016 Chicagoland Collegiate Athletic Conference (CCAC) Volleyball Tournament championship for the 10th time in team history. The last time the Saints won was in 2012.
As the No. 2 seed, Saint Francis finished off IUSB 25-11, 25-20, 19-25, 20-25, and 15-12 at the Sullivan Center.
Saint Francis (30-11) will advance to the NAIA National Tournament and matches will be announced on Monday at 11 a.m. Matches will start next Saturday.