High school football: Plainfield North rolls in quarterfinals against Rockford Auburn
Alex Ortiz | 11/13/2016, 10:17 a.m.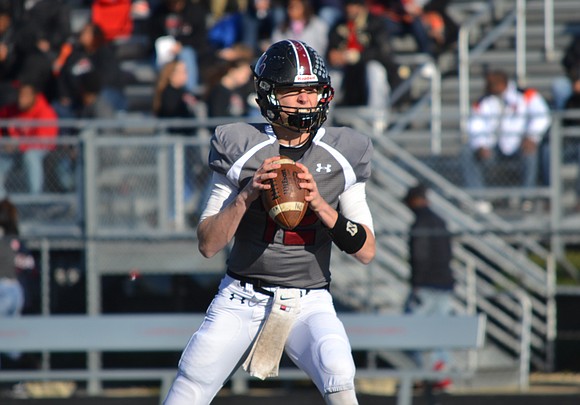 PLAINFIELD - Put simply, the Tigers of Plainfield North (9-2) have been on quite the roll.
The Tigers handily defeated Rockford Auburn (10-1) on Saturday in the quarterfinal round of the Class 7A playoffs to advance to the semifinal at Fenwick of Oak Park (11-1).
It was the Plainfield North defense that paced the team and stopped a Knights offense that averaged 34.7 points per game. While the Tigers only collected one turnover, they stopped the running game and did not let the Knights' athletic quarterback Christian Jones successfully scramble.
"I would say our defense made some huge, huge stops for us," Plainfield North head coach Tim Kane said.
Offensively, Plainfield North's quarterback Brady Miller showed his own athletic prowess on multiple scrambles for first downs that extended drives and led to touchdowns.
In the first quarter, Dillon McCarthy had a big catch and a touchdown run for the contest's first score. The Tigers followed it up in the second quarter with a Miller scramble for a first down and a 27-yard touchdown pass to wide receiver Ryan Krzystofiak for the 14-0 lead.
Plainfield North would add a field goal to make it 17-0 at the half.
From there, the momentum began to swing toward Rockford Auburn which collected a muffed punt and scored a touchdown with five and a half minutes to go in the third quarter and only trailing 17-7. The Tigers were driving on their next possession but were stopped by the Knights on a goal line stand and had to defend to start the fourth quarter.
It was then that Plainfield North's workhorse of a running back Tyler Hoosman took over. He rushed for two touchdowns to put the lead out of reach and clinch the big 30-7 win for the Tigers.
"I'm just so happy for our kids," Kane said. "And for our school and for our program to be able to keep adding to the foundation."
Plainfield North will play at Fenwick next for the semifinal round and a chance to go to the state finals at the University of Illinois at Urbana-Champaign. The exact date and time will be announced later this week.