Reverend Jesse Jackson speaks to members regarding election outcome: Where Do We Go From Here?
11/16/2016, 9:52 p.m.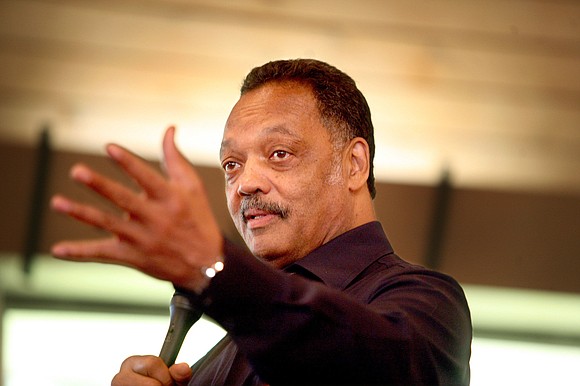 Election Night was a political earthquake that sent conventional wisdom crashing to the ground and a thick dust cloud of uncertainty, fear and anger floating across the not-so-united United States.
At a news conference, Saturday, November 12, 2016, at Rainbow PUSH Coalition national headquarters, 930 E. 50th Street in Chicago, civil rights icon and two-time presidential candidate, *Rev. Jesse L. Jackson, Sr., sifted through the rubble and outline a recovery action plan for the "progressive coalition of conscience" that elected the first African American President and almost the first woman.
"We took a big blow Tuesday," Rev. Jackson said of Donald Trump's upset victory of Hillary Clinton. "Now the meanest segments of Southern segregation feel re-enfranchised to do what they do.
"The question is," Rev. Jackson continued, "where do we go from here? At all cost, we have to defend our gains – a protected right to vote, affordable health care, a woman's right to control her body, police accountability and oversight, religious tolerance, a country that respects and welcomes immigrants."
At the news conference, Rev. Jackson will also discuss the role of the FBI in the election's outcome and whether the Electoral College system should be replaced. Clinton won the popular vote as did Vice President Al Gore in 2000. For the second time in 16 years the candidate with the most votes lost the presidential election. The Electoral College, Rev. Jackson said, represents "the original aristocratic notion you can't trust the people."
Up until the polls closed on Election Day, Rev. Jackson spent the last two months, traveling thousands of miles around the country, urging Americans to register and vote and warning against a plague of voter suppression schemes, especially across the South.
As The New York Times said in an editorial on Nov. 8, "for the first time in more than 50 years, Americans went to the polls to elect a president without a full functioning Voting Rights Act – thanks to an insidious decision by the Supreme Court in 2013."
In the battleground state of North Carolina, the editorial said, "Republican lawmakers and officials have gone to remarkable lengths to drive down turnout among black voters…." The day before the election, the state's Republican Party boasted about its efforts and suppression successes in a news release, chortling, according to the Times, "that cutbacks in early voting hours reduced black turnout by 8.5 percent below 2012 levels, even as the number of white early voters increased by 22.5 percent."
Despite the blatant and vicious attacks on voting rights, Rev. Jackson said "all is not lost. There were major victories across the country Tuesday night," including the elections of Tammy Duckworth in Illinois and Kamala Harris in California to the United States Senate and Lisa Blunt, the first African American women elected to represent Delaware in Congress.
"You don't drown because the water is deep," Rev. Jackson said. "You drown
when you stop kicking. We will never stop kicking."