What you need to know when applying for Affordable Healthcare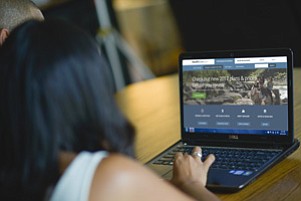 Around 20 million people have health care they've received under the Affordable Health Care act of 2010 according to figures from the U.S. Office of Health and Human Services.
Will County residents looking to join those ranks and sign up for the first time or those who are re-enrolling for insurance plans have until January 31 to choose a plan in the current open enrollment period.
The deadline is December 15 for health care shoppers looking to have coverage begin on January 1 of 2017.
Because the total cost is important to shoppers, Jonathan Gold of the U.S. Department of Health and Human Services, said that those looking for plans should begin their search on the office's website, https://www.healthcare.gov/. There they can enter their financial information and narrow their search for a plan that will fit their budget.
Gold said that three quarters of shoppers looking for plans qualify for assistance which can include tax breaks that get paid directly to their health plan providers. Gold said that he encourages people to use the financial tools to find a plan.
"A lot of people are surprised to see that they are eligible for financial assistance to help with their premiums," he said.
The website will also help them get a better picture of the types of plans available as well as the cost of monthly premiums, deductibles and co-pays. Other information available includes look up tools to see which doctors are available in their network and the medications that are covered as well.
Gold said that customers can also call the toll free number, 1-800-318-2596, to get further assistance, sign up over the phone or to find local help available in their area.
Shoppers can find local help online by visiting https://localhelp.healthcare.gov.
On the website, residents can find free assistance offered locally to help with enrollment. A sampling of local help locations on the site includes the Spanish Community Center and the Will County Health Department in downtown Joliet.
Gold said that around 130,000 Illinois resident now receive health care coverage through the state's health care market place and that many first time shoppers are surprised to see they qualify for some level of financial assistance to pay for coverage.
Financial assistance, said Gold, fluctuates to compensate for changing costs of plans but he added that even those who previously enrolled should check the marketplace as plans and their costs can change.
"You may find another plan that has your doctor in network that can save you money," he said.
Despite what has been said about repealing the affordable care act by the President elect, those looking for health care coverage should still proceed to find their plans and sign up.
"We at HHS are all in for open enrollment," said Gold.
"We're encouraging everybody to sign up for this coverage that's vital to millions of people," said Gold who noted that there has been a surge in enrollment during the current enrollment period which started at the beginning of November.