Joliet approves next step for St. Joseph Hospital TIF district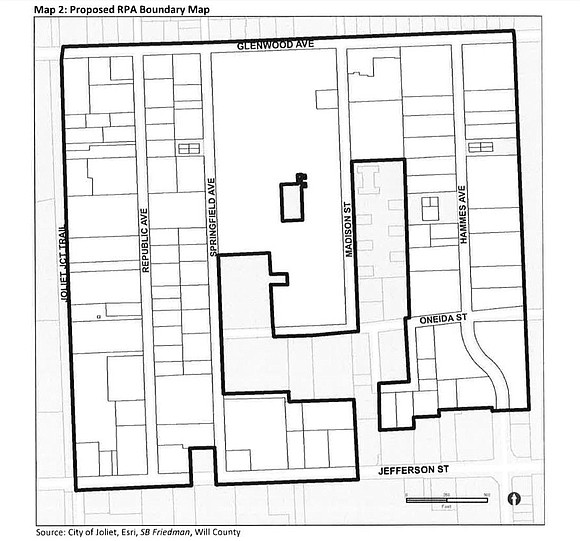 City of Joliet officials have approved the next step in the creation of a Tax Increment Funding (TIF) District for the area near Presence-St. Joseph Hospital downtown.
The city approved a feasibility study to be completed by engineering firm SB
Friedman in October.
City Manager Jim Hock told the city council Monday that the properties identified for inclusion in the area meet the criteria including a majority of properties being at least 35 years or older.
Hock said that the area being considered has to be contiguous under the rules surrounding the creation of the district and that the city worked to exclude residential property from the area.
The area being considered encompasses the land around the hospital district
including Glenwood Ave on the north, Republic Ave on the west, Hammes Ave to
the east and parts of Jefferson Street on the southern edge.
Rules governing the creation of TIF districts require properties to meet certain conditions in order to be eligible including land that is economically stagnant or blighted and would otherwise not attract private investment.
Once created, tax rates remain constant within a TIF district for as long as 23 years. During that time, any increases in property value and the resulting difference from the tax revenue increase would be directed to a TIF fund to be reinvested in improvements in the area. Property taxes don't increase in the TIF district and property tax revenue continues to be distributed to the supported taxing bodies. The taxes generated from the increased property values would be distributed to the taxing bodies at the end of the TIF's lifespan.
The report documents indicate that of the 110 parcels being considered for the TIF, 74% show signs of deterioration in addition to many that are below the minimum code. The study also found a lack of community planning for the area citing overcrowding of structures, inadequate parking, sidewalks and access to right of way.
Equalized accessed value for the properties in the area have also decreased over the past 5 years as much as 9.5% in 2011 and a 4.6% drop recorded in 2015.
According to the study, the most recent $22.5 million accessed value of the area is expected to increase about 2% per year to $35 million by end of the district's term.
If approved, goals for the area includes a proposed $17.9 million in improvements including redevelopment of some of the buildings, improved public infrastructure as well as a improvements to the surrounding streetscape, landscaping, and signage.
Notices for a public hearing will be sent to the stakeholders in the area with the council set to adopt the proposal on January 17 of next year.
Once approved, the TIF would be in effect until December 31, 2041.