Joliet Aldi reopens with revamped, expanded store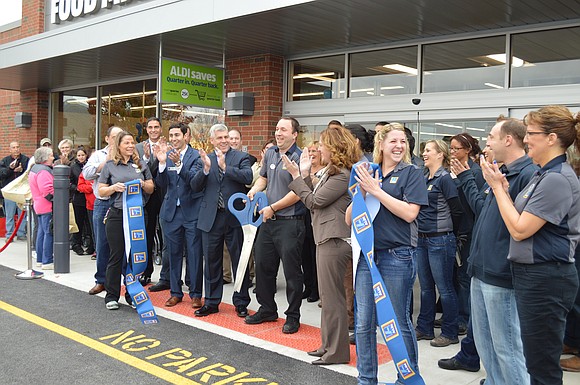 David Butler took a day off from his job as a bailiff at the Will County Courthouse so he could wait in line at the Aldi store on the corner of Caton Farm and Route 59 on Friday.
Butler was the first in line at 6 in the morning, waiting for a chance to be among the first shoppers to see the remodeled and expanded store.
During the renovation, the Joliet resident had been set adrift in the retail grocery landscape while the store closed for 5 weeks to undergo the remodeling which included a 3400 square foot expansion.
Butler said that he's been shopping at other area Aldi stores while the store was being remodeled, but was glad to see it reopen on Friday. He's shopped at the store since it opened in 2002 and said he's been a loyal customer due to the helpful staff and its location near his home.
Before the opening, Joliet Mayor Bob O'Dekirk, thanked Aldi officials for their "commitment to Joliet."
In a discussion of the 2017 budget this week, Joliet officials noted that residents' tax bills from the city would remain flat due to the recapture of new growth that comes from projects like the Aldi expansion.
For those who came early, the first 100 people in line received gift cards that ranged from $5 up to the "golden ticket" level of $100 said Aldi Vice President Heather Moore who said that the store is the first to be remodeled under the new concept.
Moore said that the re-opened store will include a larger floor plan, wider aisles, and include a wider range of fresh produce including more gluten free and the store's Simply Natural options.
The store, said Moore, will appeal to shoppers whose "taste profiles have changed" over the years to favor more fresh fruits and vegetables and other healthier fare.
Moore said that customers are attracted to Aldi's mid-size shopping model that offer prices that are usually 50% below their competitors while maintaining a quality that's as good as or better than other grocers.
In addition to free samples, customers at the ribbon cutting also were able to enter a contest to win free produce for a year.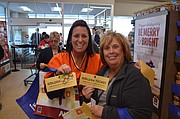 For shoppers like Dennis and Shirley Ryan, the Aldi store has become couple's neighborhood grocery store. They like that "everything is fresh" and the friendliness of the staff.
After moving from Tinley Park 2 years ago, Debbie Specha has become a regular customer at the Joliet store as well, attracted at first by its walking distance proximity to her home but eventually coming to appreciate the friendly staff and generous return policy for any products she is less than satisfied with.
"It's a no brainer for me," said Specha, who came armed with her re-usable shopping bags ready to get some of her shopping done.
Despite being first in line, David Butler received a $10 gift card to the store but sisters Connie Tucker and Debbie Orr, who got in line at 8 a.m. each won $100 golden ticket gift cards. Both said that they were glad to see the store finally re-open.