College sports roundup: Lewis men's basketball falls to Ferris State
Alex Ortiz | 11/20/2016, 12:41 a.m.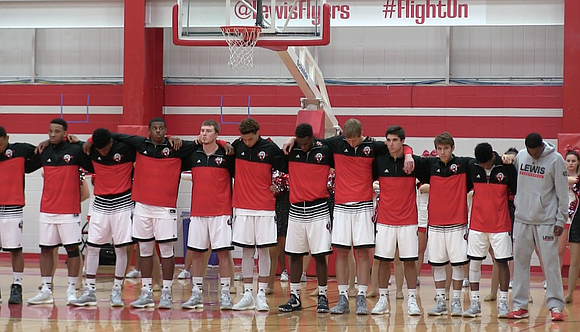 The Lewis men's basketball team fell to 1-3 this season with an 84-72 loss to Ferris State on Saturday on the road. Still, the Flyers managed to out-rebound the Bulldogs by 16 and had four players scoring in double figures.
Sophomores Delaney Blaylock and Frank Vukaj had 14 points each, junior forward Nick Norton had 12 and senior guard Miles Simelton had 11 of his own. Blaylock and Vukaj recorded nine and eight rebounds respectively. Despite a good rebounding performance as a team, it went 0-10 from beyond the three-point arc.
The Flyers will play again on Tuesday Nov. 22 at home against Hillsdale. Tip-off is set for 7:30 p.m.
No. 20 Lewis women's basketball dominates Davis and Elkins
The Lewis women's basketball team set a school single-game record with 29 assists on its way to a 91-47 drubbing of Davis and Elkins on Saturday.
Senior guard Jamie Johnson led the team with 12 points. Sophomore forward Jessica Kelliher and junior guard Tiana Karopulos had 11 points each. Senior guard Alyssa Siwek and sophomore guard Kayla Brewer each contributed 10 points. The Flyers were 56.3 percent from the field including 10 three-pointers. All 13 Flyers scored in the game.
Lewis improves to 4-1 on the season and returns to action on Tuesday Nov. 22 at home against Northwood. Tip-off is set for 5:30 p.m.
No. 5 SFU women's basketball survives Huntington
The St. Francis women's hoops team narrowly defeated Huntington 74-73 on Saturday in the title game of the Huntington Classic. The Fighting Saints remain undefeated at 5-0, the second straight year they've done so.
Senior Charnelle Reed recorded her second double-double of the young season with 28 points and 13 boards, both tops for the contest. Junior Christina Ekhomu had 18 points.
The Saints are at home on Tuesday night against CCAC rival Holy Cross College at 5 p.m.
No. 5 SFU men's hoops takes down Holy Cross
The Fighting Saints men's basketball team won its home opener against Holy Cross College on Saturday 72-61. Saint Francis improved to 1-2 overall and 1-1 in conference play with the win.
Senior Jean Pietrzak led the Saints with 18 points and Iain Morison recorded 14 points. Senior Landus Anderson added 10 points and senior Jake Raspopovich dished out seven assists. The Saints shot 50 percent from the field while allowing Holy Cross a 39 percent shooting night.
Saint Francis will play again in an exhibition game on Monday night at the University of Texas-Arlington.