Area youth attend 23rd annual Historically Black College Fair
11/22/2016, 3:13 p.m.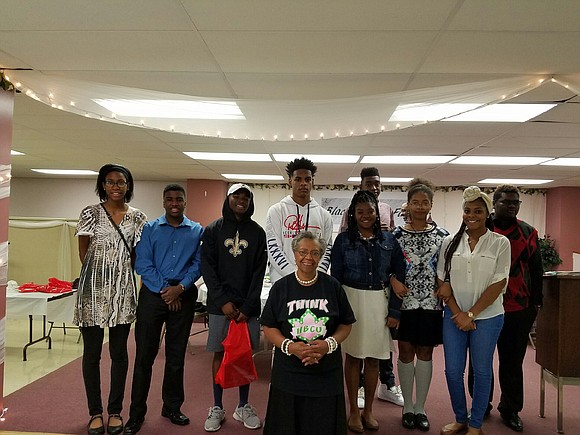 On Sunday, November 13th, students from both Joliet Central and Joliet West High Schools attended the 23rd Annual Betty Mahone Historically Black College Fair held at Brown Chapel A.M.E. Church in Joliet.
Over 200 individuals attended the event and a variety of historically black colleges were represented at the fair including local colleges such as Joliet Junior College, Xavier University, Roosevelt University, and University of St. Francis. In addition, the Joliet Chapter of the National Hook-Up of Black Women hosted a health fair conducting diabetes screenings, cholesterol checks, blood pressure screenings, and handing out health information.
A wealth of information was provided to attendees and college bound seniors were able to receive instant acceptance to colleges in attendance and could enter to win scholarships thanks to the sponsorship of the Alpha Kappa Alpha Sorority, the Zeta Phi Beta Sorority, and National Hook-Up of Black Women.
Betty Mahone, who hosts this fair annually, stated, "It is so important for our young people to be aware of the resources available to them. It was great to see so many people from our community come together to share their success and lift others up to they in turn help others. It is a positive cycle we are encouraging. I cannot stress the importance of young people seeing the members of their community showing an interest and investing time in them."
Joliet Township High School students made great use of their time at the fair. Twelve students within the district received instant acceptance into several colleges and universities. In addition, the following four JTHS students received textbook scholarships:
Dalen Dent (Joliet West High School)

Myah Winfrey (Joliet West High School)

Kiarra Sherrod (Joliet Central High School)

Clevonte Tate (Joliet Central High School)
"I'm glad that I attended this event," Clevonte said, "There are so many schools that offered me opportunities and that made me really excited. I'm also very thankful because I was one of the recipients of one of the scholarships. I am very thankful. I'm planning to study science next year and now I have even more resources to help me do that."