Boys basketball: Romeoville soars over Lemont in Day 2 of Thanksgiving Classic
Alex Ortiz | 11/23/2016, 6:09 p.m.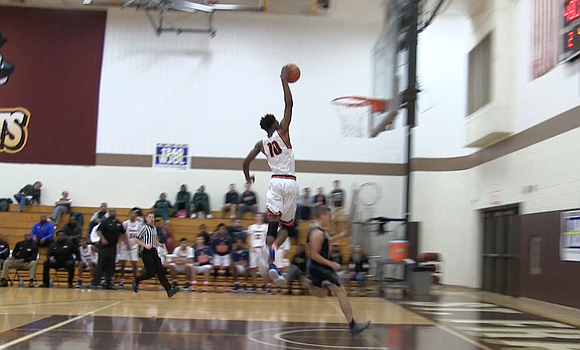 JOLIET - The Romeoville Spartans (1-1) started slowly against Lemont (1-1) on Wednesday at the WJOL Thanksgiving Classic at St. Francis University, but finished strong with a 59-38 win. The Spartans opened the season on Monday with a 73-66 loss in double overtime against Joliet Central.
"Sometimes with this group we start slow," Romeoville Head Coach Marc Howard said. "We kept stressing to them on the sideline that we need to apply the pressure, play our style of basketball, make the tempo a fun tempo and when we did that we looked much better."
Junior guard Kahlil Blakney, junior forward Dontia Johnson and senior forward Robert Johnson were all in double figures in scoring. The younger Johnson benefited from his team's intense full court press defense which created turnovers and give him three big breakaways that resulted in a couple of monster dunks.
But the elder Johnson was key in pacing his team and doing the dirty work in the paint. He'll be a focal point for his team's success this season.
"He's is our unsung leader," Howard said referring to Robert Johnson. "Sometimes he doesn't get much credit because he's just Mr. Consistency. He's always on the glass. He's diving on the board. At six-three, he can guard six-seven. He's been doing that for three years on the varsity level."
The tournament will continue on Friday. Here are the match-ups and times set for Day Three at the University of St. Francis:
Minooka vs. Plainfield Central, 2:30 p.m.
Joliet Central vs. Lemont, 4:15 p.m.
Providence Catholic vs. Romeoville 6 p.m.
Lincoln-Way West vs. Lockport 7:45 p.m.