High school boys basketball: Joliet Central cruises, Plainfield Central loses on Day 3 of Thanksgiving Classic
Alex Ortiz | 11/25/2016, 9:32 p.m.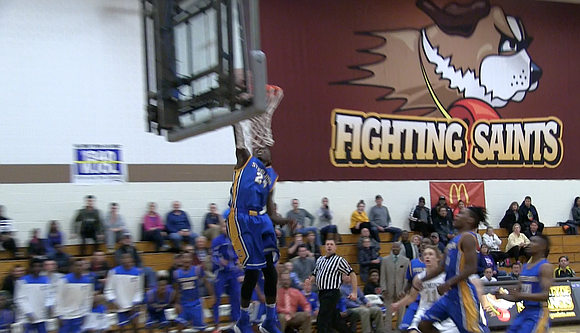 JOLIET - Following a slow start in which Lemont (1-2) built an 8-0 lead to begin the game, Joliet Central (2-0) rallied back and out gunned its opponent to ultimately win 51-37.
"I'm just happy that our kids adjusted to the tempo and everything in the first half," said Larry Thompson, Joliet Central head coach. "They didn't get down on themselves and were able to get the lead by the end of the first half."
Thompson said that Lemont's zone defense took some getting used to, but the Steelmen were able to catch on offensively. Joliet Central senior guard Jason Bingham and junior guard Cameron Blackmon were both in double figures. Blackmon led his team with 14 points despite a tough defensive effort by Lemont.
"Sometimes guys see that first shot and they want to pass along instead of trying to get a better shot and rhythm," Thompson said. "But credit goes to Lemont just making us have to work that hard to get a great shot."
Joliet Central will play Minooka in the 1st Place game on Saturday at 3:15 p.m. at the University of St. Francis.
In the early game, the Plainfield Central Wildcats (0-3) tried to get in the win column for the first time this season, but despite erasing a ten-point lead, the team fell short to Minooka (3-0) 54-44.
"I love the fight in this locker room," said Plainfield Central Head Coach Steve Lamberti. "(They) fight hard, compete. We got to make some better decisions. I thought we put ourselves in some tough spots offensively, put the ball in places we didn't want to go."
Plainfield Central was able to tie the game after trailing behind the effort of junior forward Matthews Morganfield, who scored 21 points in the contest.
"He's aggressive," Lamberti said about Morganfield. "He's athletic. He's strong. He's just understanding how he can use that ability. You can see he can in a sense take control with just his athleticism and his strength."
The effort was not enough thought. Plainfield Central will face Providence Catholic (0-3) in the 4th place game on Saturday at 10 a.m.