Shrimp and Broccoli Fettuccine
11/30/2016, 11 a.m.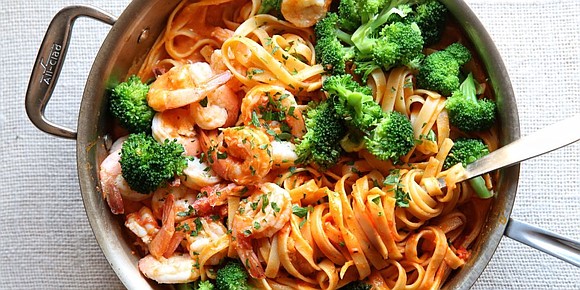 SERVINGS: 4
INGREDIENTS
kosher salt
1 lb. fettuccine
extra-virgin olive oil
1 head broccoli, cut into florets
2 tbsp. butter
2 garlic cloves, minced
1/4 c. chicken broth
Freshly ground black pepper
1 lb. shrimp, peeled and deveined
2 c. tomato sauce
1/2 c. heavy cream
1/4 c. chopped fresh parsley
DIRECTIONS
Bring an 8-quart stock pot of water to a boil and generously season with salt. Cook pasta according to al dente package directions. (Stir frequently as fettuccine tends to stick.) If necessary, stir in drizzle of olive oil. Add broccoli for last minute of cooking.
Meanwhile, in a large skillet over medium heat melt butter and sauté with garlic for 2 minutes. Add chicken broth, 1 teaspoon salt, and 1/2 teaspoon black pepper and bring to a simmer; toss in shrimp and sauté until pink, about 3 minutes. Transfer shrimp to a bowl and set aside.
Stir in tomato sauce and heavy cream; simmer on low for 5 minutes. Toss in pasta until well combined; add back shrimp and broccoli. Stir until warmed through. Garnish with parsley and serve immediately.