Plainfield South players kneel during national anthem
Alex Ortiz | 10/1/2016, 11:33 p.m.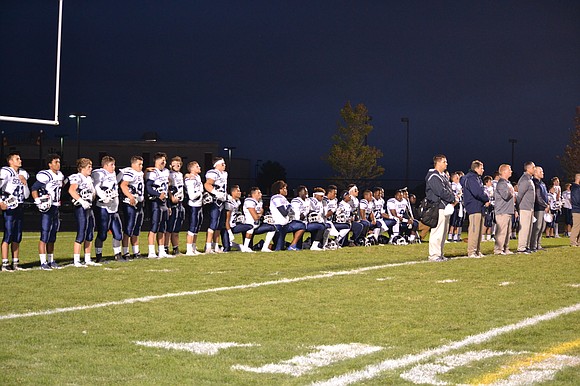 As the Plainfield East band performed the "Star Spangled Banner" before Friday night's game, about a dozen members of the visiting Plainfield South team took a knee. They were lined up along with the rest of their team, and some still placed a hand over their heart.

"Stand up!" someone in the crowd shouted.
But throughout the duration of the national anthem, the players remained kneeling.
This was not a spontaneous demonstration. The players had spoken with and received permission from their head coach Bill Bicker and the Plainfield South High School administration. Bicker was more than willing to allow his players to express themselves and exercise their First Amendment rights, but he had some conditions they needed to meet.
The players had to get permission from their parents to participate in the protest. The players also had to talk to the rest of their teammates so that everyone would understand why they were doing it, even if they did not all agree.
"This can't be just because you see somebody doing it on TV," Bicker said. "We walk that fine line as coaches, as administrators about wanting to have critical discussions about important things in our society and wanting our kids to be critical thinkers and wanting our kids to be a part of society… and stuff that we don't know if they're emotionally ready for."
But the players who took a knee knew what their message was going to be about.
"We just wanted to let them know that we are all just anti-violence supporters," said senior wide receiver Victor Ballard. "We're not police haters or anything like that. We love the police. We love the military. We just wanted to stand up for what's going on in America right now."
The phenomenon of athletes not standing during the national anthem started with San Francisco 49ers quarterback Colin Kaepernick, who began the protest during the NFL preseason to bring awareness to the issue of police brutality against African-Americans. Since then, some of his teammates, fellow NFL players and professional, college and high school athletes around the country have followed suit in trying to speak out against the killing of unarmed African-Americans by police officers. The protests have received much criticism for being disrespectful to the flag and the military.
The reaction on Twitter, mostly among the players' peers, was a mixed bag.
"This is so embarrassing to the Plainfield Community. That's so disrespectful to the National Anthem and the Men and Women in the Military."
"Proud of you guys."
"Thank you to those who stood."
"I'm in the military and I don't find it disrespectful."
"Y'all will never know what it's like to be a black man in America…#Proud"
The players said that as of now, this will be a one-week protest. But they were already anticipating a lot of negative reaction.
"We know there's going to be repercussions," Ballard said. "But we're prepared for it. Our teammates got out back. Our coaches got our back and we're ready for anything that gets thrown at us."
This is not the first time that a team in the Southwest Prairie Conference has demonstrated during the national anthem. Nearly the entire Oswego East football team decided to remain standing and lock arms as a team to show unity as opposed to any sort of political stance during the anthem for before their games starting two weeks ago.
Still, Bicker and his players stand by their decision but he does not want the discussion to end there.
"We now know that people feel strongly about this," Bicker said. "Let's talk about it. Let's address the issues. Let's let people understand why people feel strongly about it. I think that's really our next step. Let's try to make a difference."
Photos and video by Alex Ortiz.