College sports roundup: Saint Francis football loses on overtime field goal
Alex Ortiz | 10/3/2016, 11:37 a.m.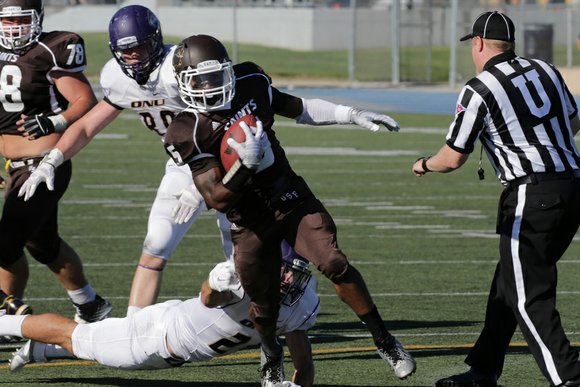 The Saint Francis football team lost to Concordia (Mich.) 24-21 on a field goal in overtime on Saturday at Joliet Memorial Stadium. With the loss, the Fighting Saints fell to 1-4 this season.
The Saints gave up a 14-point lead they held in the third quarter. SFU took the lead off of an 81-yard touchdown pass from freshman quarterback Alex Alarcon (who was in for the temporarily sidelined Don Butkus) to Zach Moreno. Concordia then scored two touchdowns and had an opportunity to win in the final seconds but missed a 46-yard field goal.
Saint Francis had the ball to begin the overtime period and marched down to Concordia's 5-yard line but Butkus threw an interception in the end zone. The Cardinals then drove down the field and converted the game-winning field goal.
Butkus went 15 of 24 for 108 yards with two touchdowns and two interceptions. The Saints will return to action at home next Saturday against St. Ambrose.
Women's soccer: Lewis beats UIS; SFU tops Trinity International
The Flyers were able to beat UIS 3-1 led by junior midfielder Mackenzie Fuller, who scored a goal and two assists at Lewis Stadium on Sunday. Junior forward Angela Toritto and freshman defender Karlie Cummins had the other two goals. Cummins had the game-deciding goal at the 50:53 mark
Lewis is now 5-5-1 overall and 3-4-1 in the GLVC. The Flyers will play again on Friday (Oct. 7) at St. Louis to play Missouri-St. Louis.
Saint Francis beat Trinity International 2-0 in CCAC action on Saturday at Joliet Memorial Stadium. The win snapped a 25-match winless streak in the series by the Saints.
Senior Alex Truhlar scored off of a free kick int he 23rd minute. It was her sixth of the year which leads the team. Senior Leslie Rueda scored in the match's final minute, her second of the season. The Saints outshot the Trojans 28-9.
Saint Francis is now 5-3-1 overall and 4-1 in conference. The team will play at Purdue University Northwest on Monday.
Men's Soccer: Lewis rallies in win over UIS; SFU falls to Trinity International
Flyers freshman midfielder Timm Adler put his team ahead 2-1 after a penalty kick int he 81st minute over UIS in GLVC action on Sunday. Freshman midfielder John Horstman had the other goal in the 69th minute.
Lewis improves to 3-7 overall and 2-6 in conference. The Flyers play again on Friday (Oct. 7) at Missouri-St. Louis.
Saint Francis lost to Trinity International 2-0 on Saturday at Joliet Memorial Stadium. The Fighting Saints were outshot 18-9 and Trinity's goalkeeper made four saves to preserve the shutout.
The Saints are 1-8 overall and still winless in conference at 0-5. The team is at Purdue University Northwest on Wednesday.
Women's golf: Lewis finishes 2nd in UMSL Fall Invite
The Lewis women's golf team finished the University of Missouri-St. Louis Fall Invite in second place with a team score of 627. The tournament was the team's third straight finishing in second place.
Madison Hill was the team's top player with a 150, good enough for 4th place individually. Teammates Hannah Schultz placed 9th with a 158 and Rachel Sweeney placed 10th with a 159.
The Flyers travel to Memphis, Tennessee for the Buccaneer Invitational on Oct. 17 and 18.