County launches construction of major capital projects
10/6/2016, 6 a.m.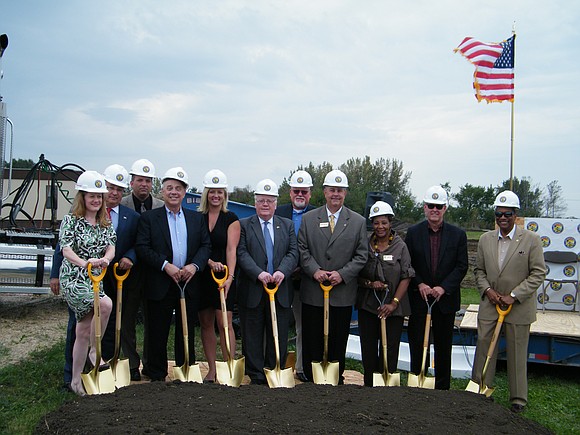 thetimesweekly.com
JOLIET, IL- Will County officials on Wednesday gathered to celebrate the groundbreaking of a new Public Safety Complex and mark an important milestone for the construction of several major capital projects over the next four to five years. The new home for the Sheriff's Office, 911 Dispatch Center and Emergency Telephone System Board (ETSB) could open by the end of next year.
"This project marks a significant step forward for our county, as we work to build safe and modern facilities to serve residents for generations to come," said Will County Board member Ragan Freitag, chair of the capital improvement's committee. "I'm proud our essential capital projects are being built by local labor and creating numerous jobs while not raising taxes and meeting the county's long-term capital needs. I look forward to seeing these facilities built and the capital plan completed."
The $29.5 million, 85,000 sq. ft. facility on Laraway Road and Route 52 in Joliet will replace the existing Sheriff's Office next door and provide a new administration and training building, evidence storage, space for a consolidated 911 Dispatch Center that will serve 30 communities as well as the Emergency Telephone System Board. Currently, there is a need for a central location for these functions that are now spread throughout the county. Once the new complex is complete, the old Sheriff's Office will be torn down.
"After many years of work by numerous individuals and countless hours of meetings and negotiations, we can finally pick up shovels and start moving dirt," said Will County Board Speaker Jim Moustis. "Thank you to everyone that has helped make this day a reality. I believe the progress we have made reflects the tremendous level of bi-partisan cooperation practiced by multiple branches of county government over many years."
In August of 2013, after many years of deliberation, the Will County Board approved a comprehensive plan for major capital improvement projects and set into motion three years of planning and preparing for today's event. Completion of the Public Safety Complex will herald the construction of a new courthouse and judicial complex in downtown Joliet on the southwest corner of Ottawa and Jefferson Streets. The county purchased the former Midwest Bank building in late 2014 and some of the sheriff's operations have worked out of there since then. Once they move into the new Public Safety Complex, the building will be demolished.
"Our entire staff is looking forward to this new facility," said Will County Sheriff Mike Kelley. "The law enforcement staff, as well as our civilian staff, are dedicated to the residents of Will County and are committed to providing the highest standards of public safety to them. This facility is essential for the growth and progress of the Sheriff's Office. Upon its completion we will be poised to be more efficient by being under the same roof and better equipped with new technology and modernization within all divisions of the department. We are excited to get this project started."
An accelerated timeline for the projects is under consideration, so as to begin construction of the new courthouse by spring of 2018. The $195 million judicial complex is currently in the design phase with a proposal for a 10-story, 370,000 sq. ft. building with 28 courtrooms. The building will house judges and numerous other departments including court clerk, state's attorney, public defender, court administration, jury commission, court reporters, and probation.
"We worked very hard to develop a financial plan for these capital projects that doesn't raise taxes, uses existing revenues and only borrows what is necessary," said Mike Fricilone, chair of the county board's finance committee. "We spent countless hours consulting with financial advisors developing a fiscally responsible plan, and I'm proud to tell taxpayers that their money is being spent and invested wisely on capital projects of the highest quality."
The other capital projects in the works are a satellite courthouse in the northern part of the county and new health department building. The county's population is expected to grow from 700,000 to 1.2 million residents over the next 30 years.