Strong community reaction from Plainfield South players' protest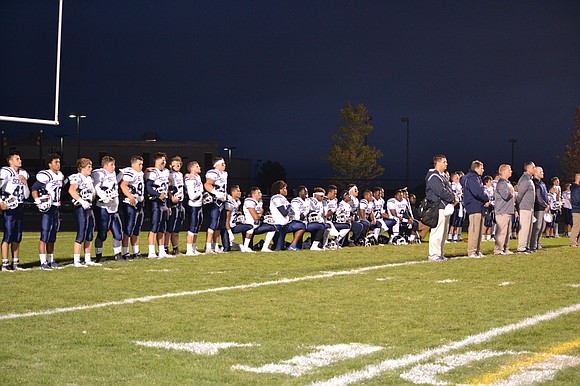 Reaction was strong to a story that initially ran on The Times Weekly website (thetimesweekly.com) this week about a protest by the Plainfield South football team and some of the players there who decided to kneel (take a knee in football terms) during the National Anthem.
The players' protest follows in the wake of San Francisco 49ers quarterback Colin Kaepernick, who began the protest during the NFL preseason to bring awareness to the issue of police brutality against African-Americans.
Since then, some of his teammates, fellow NFL players and professional, college and high school athletes around the country have followed suit in showing support against the killing of unarmed African-Americans by police officers. The protests have received criticism from some, who say protestors are being disrespectful to the flag and the military.
That was true on Friday night as the Plainfield East band performed the "Star Spangled Banner" when about a dozen members of the visiting Plainfield South team knelled to one knee. They were lined up with the rest of their team, while they all placed a hand over their heart.

Some members of the crowd shouted for them to "Stand up!" but the players remained kneeling.
It wasn't a spontaneous demonstration according to the players who received permission from their head coach Bill Bicker and the Plainfield South High School administration beforehand.
Bicker said he was more than willing to allow his players to express themselves and exercise their First Amendment rights, but he had some conditions they needed to meet.
Players had to get permission from their parents to participate in the protest and they also had to tell their teammates why they were doing it.
"This can't be just because you see somebody doing it on TV," Bicker said. "We walk that fine line as coaches, as administrators about wanting to have critical discussions about important things in our society and wanting our kids to be critical thinkers and wanting our kids to be a part of society… and stuff that we don't know if they're emotionally ready for."
But the players who took a knee knew what their message was going to be about.
"We just wanted to let them know that we are all just anti-violence supporters," said senior wide receiver Victor Ballard. "We're not police haters or anything like that. We love the police. We love the military. We just wanted to stand up for what's going on in America right now."
The reaction to this story on The Times Weekly's website/facebook on social media sparked vigorous debate with comments ranging from those who supported the athlete's First Amendment rights to those who thought the act was shameful and disrespectful.
One of the player's parents noted, that she was proud of her son taking a stand and that those who were calling for the players to be expelled or the coach to be fired have to see the demonstration through her eyes.
"People need to realize our opinions are based on our life experiences," she said.