Romeoville Community Events
10/7/2016, midnight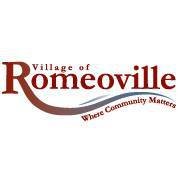 St. Andrew the Apostle School BINGO Night
Saturday, October 8, 2016, Doors open at 5 p.m. First game at 5:30.
St. Andrew Parish, 505 Kingston Drive
Snacks and refreshments are available for purchase. Day care is available during the games.
Romeoville Area Chamber of Commerce Monthly Luncheon
Tuesday, October 11, 2016, 11:30 a.m.-1:00 p.m.
At's A Nice Pizza, 334 N. Independence Blvd.
Romeoville Area Chamber of Commerce presents the Legislator's Forum "State of the State" featuring Representative Natalie Manley, Senator Jennifer Bertino-Tarrant, Senator Pat McGuire and Mayor John Noak. Forum topics include State Taxes and I55/Interchange Project. $25 for Chamber members and $35 for future members. For more information, email info@romeovillechamber.org or call the Chamber office at 815-886-2076.
Citizens Against Abuse Domestic Violence Awareness Event
Thursday, October 13, 2016, 5:30-8:00 p.m.
DuPage Township Levy Center, 251 Canterbury Ln., Bolingbrook, IL
Join us for the 18th Annual Rally & March Against Abuse. Topic: "Relationship ABC's: Healthy vs Unhealthy." For more information, email info@citizensagainstabuse.org or call 630-254-9003.
Knights of Columbus 7th Annual Oktoberfest Dinner Dance
Saturday, October 15, 2016, Doors open at 5 p.m., Dinner at 6:30
St. Andrew Parish Hall, 505 Kingston Drive
The event will have music, dancing, cash bar, silent auction, raffle, 50/50 raffle. Menu includes: Roast pork loin, bratwurst, sauerkraut, German potato salad, rye bread and a custard dessert.Tickets are $15.00 each. Call Mike for tickets at 815-954-4767.
Will County Public Hearing for Will Connects 2040
Tuesday, October 18, 2016, 4:30-7:00 p.m.
Romeoville Village Hall, 1050 W. Romeo Rd.
The public is invited to a Public Hearing for Will Connects 2040, Will County's Long Range Transportation Plan. The public is also invited to review and provide comments on the draft Will Connects 2040 Plan, which is available on the project website by clicking here. Comments can also be sumbitted by emailing: info@willconnects2040.org or by mail to: Will County Division of Transportation, Attn: Will Connects 2040, 16841 E. Laraway Rd., Joliet, IL 60433. The 30 day comment period will begin on September 21, 2016 and end on November 2, 2016.
Kiwanis Club of Bolingbrook/Romeoville Monthly Meeting
Wednesday, October 19, 2016, Noon to 1 p.m.
Bolingbrook Golf Club, 2001 Rodeo Rd., Bolingbrook
Rasmussen College Career Fair
Saturday, October 22, 2016, 3:00-6:00 p.m.
iPic Theatre Bolingbrook, 619 E. Boughton Road, Bolingbrook
Employers hiring in a range of industries, including: Accounting, Billing & Coding, Customer Service, Early Childhood Education, Healthcare, Human Services, Law Enforcement/Corrections, Nursing, Office/Admin, Supply Chain/Logistics and more! Plus FREE Linkedin headshots! Individual resume review from 3:30-5:30 p.m. FREE. Open to the public. RSVP by clicking here.
Sanctuary Church "Fall Fest"
Saturday, October 22, 2016, 5:00-8:00 p.m.
Sanctuary Church, 1251 Windham Pkwy.
Bring your family and friends to The Sanctuary Church's Fall Fest! Don't miss an evening of free family fun! This year's Fall Fest will feature an incredible show by balloon artist, "Smarty Pants," called "simply amazing" by WGN-TV. The Big Balloon Show is a unique experience combining comedy and one-of-a-kind balloon creations. Reserve your free tickets for either the 6 p.m. or 7 p.m. show by clicking here.The evening also will include a free taco bar, caramel apples, crafts, games, inflatables, prizes and tons of fun for the whole family! Kids can wear their favorite costumes. If you have any questions, please call 630-759-7575 or visit our site by clicking here.