High School Football: Plainfield North shuts out Plainfield South
Alex Ortiz | 10/8/2016, 5:13 p.m.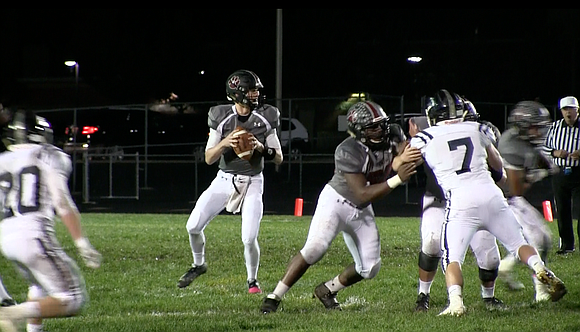 PLAINFIELD - The muddy and wet field could not stop the Plainfield North Tigers' (5-2, 5-2) offensive assault against the crosstown rival Plainfield South Cougars' (4-3,4-3) defense. The Tigers, on the school's Homecoming weekend, shut out its second straight opponent with a 35-0 win over the Cougars; the team beat Joliet Central 41-0 last week.
The Tigers opened fast with a quick passing attack and got up on the Cougars quickly with touchdowns on its first two drives.
"I think they have a good run defense," Plainfield North head coach Tim Kane said. "We saw them on tape quite a bit and people don't move that easily on them. We felt like we had to throw the ball some."
Plainfield North quarterback Brady Miller had great command of the offense and led five scoring drives all ending in touchdowns, three of which he threw. Wide receiver T.J. Kane caught two of them including a 25-yard catch on the opening drive.
The Tigers defense also had a good day stopping the Cougars running game and sacking the Cougars quarterbacks multiple times. Plainfield South rarely posed a serious threat to score.
This week's local results:
Plainfield North 35, Plainfield South 0
Joliet West 42, Minooka 30
Romeoville 31, Plainfield East 15
Oswego East 42, Plainfield Central 0
Oswego 63, Joliet Central 14
Lincoln-Way Central 42, Bolingbrook 28
Lockport 14, Lincoln-Way West 7
Benet 38, JCA 21