College sports roundup: St. Francis football defeats St. Ambrose
Alex Ortiz | 10/9/2016, 8:36 p.m.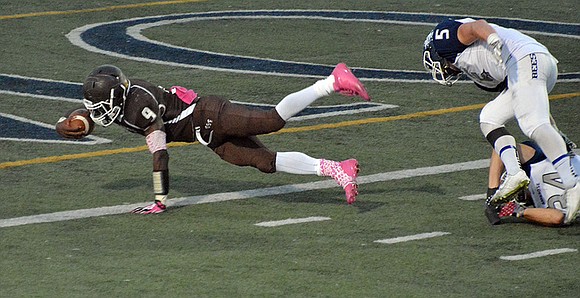 JOLIET - The Saint Francis Fighting Saints snapped their two-game losing streak on Saturday against Saint Ambrose with a 35-14 win. The Saints won with a solid ground game and freshman Michael Johnson and sophomore Jordon Smith combining for more than 191 of the team's 265 rushing yards.
The Saints are now 2-4 overall and 1-2 in conference. This is the Saints' third win against the Bees in the last four years.
Johnson had a career day with 114 yards on 16 carries which resulted in 7.1 yards per attempt. Junior quarterback Don Butkus led an offense that gained 519 total yards. Butkus completed 22 of 27 passes for 254 yards and a touchdown. He also gained 54 rushing yards and two touchdowns.
Next Saturday, the Saints are again at home against Davenport. Kickoff is at 1 p.m.
Volleyball: St. Francis wins two CCAC matches
The Saint Francis volleyball team (15-7) is on a seven match winning streak following two four-set victories on Saturday in the Chicago Collegiate Athletic Conference Crossover Tournament at Robert Morris University Illinois. The Saints defeated both Saint Ambrose and Saint Xavier.
Against Saint Ambrose, Saint Francis lost the first set 17-25, but then won the final three 25-12, 25-18, and 25-10. Senior Alyssa Bridleman and junior Perinar earned 10 kills each and sophomore JoAnna Nowicki contributed nine kills. Junior Leah Alles led the team with 16 digs and senior Brooke Hartnell had 12.
In the match against Saint Xaiver, Saint Francis again won in four sets going 16-25, 25-23, 25-23, and 25-19. Sophomore Jessica Karalow and Hartnell earned 11 kills each. Allen totaled 39 digs and senior Kelly Gould and Hartnell had 20 a piece.
The Saints will be in Whiting, Indiana on Tuesday to play Calumet College of St. Joseph in conference play at 7 p.m.
Women's Soccer: Lewis earns 3-2 OT win; Fuller scores Hat Trick
Junior midfielder Mackenzie Fuller led the Lewis women's soccer team with a hat trick in the team's 3-2 overtime win against Maryville University in GLVC action on Sunday afternoon.
Fuller's hat trick is the team's first since Jessica Chavez's back on Sept. 13 against Indianapolis in a 5-2 win. Fuller netted her goals in the 16th, 88th and 97th minutes.
Lewis improves to 6-6-1 overall and 4-5-1 in conference play. The Flyers will play again on Friday, Oct. 14 at 7:30 p.m. as they will welcome Quincy to Lewis Stadium.