Acorn Squash Stuffed with Turkey Sausage
10/11/2016, 11 a.m.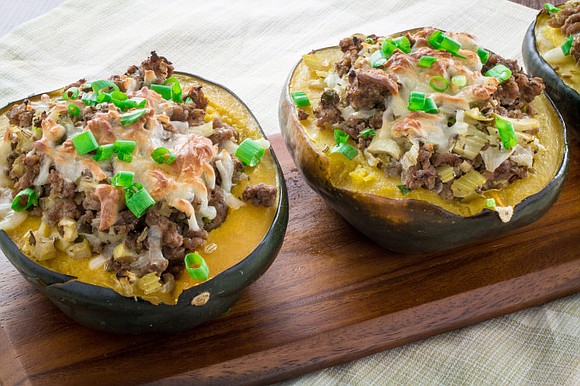 SERVINGS: 4-8
Ingredients
3 lbs ground turkey
4 medium acorn squash
2 medium granny smith apples peeled and chopped into ½-in pieces
2 medium celery stalks
3 cups mozzarella cheese shredded
1 medium yellow onion finely chopped
1 bunch scallions chopped
3 tbsp olive oil extra virgin
3 tsp fennel seeds
3 tsp caraway seeds
2 tsp garlic powder
2 tsp ground thyme
½ tsp dried sage
½ tsp ground cloves
½ tsp nutmeg
½ tsp kosher salt or to taste
½ tsp black pepper or to taste
Instructions
Preheat oven to 400°F.
Cut acorn squash in half, scoop out and discard seeds. Cut a thin slice from bottom of squash halves to prevent them from rolling when being stuffed.
Add 1-2 cups of water to a baking sheet, or until bottom of sheet is covered, and place acorn squash open-sides-down on the sheet. Place in oven and bake for 40-45 minutes, or until soft. Remove from oven and set aside, turning over when cool. Do not turn oven off.
In a large skillet over medium heat, add olive oil, onion, celery and apples. Cook until soft, about 5 minutes. Add ground turkey, fennel seeds, caraway seeds, dried sage, garlic powder, ground cloves, nutmeg, thyme, salt and pepper. Cook until turkey is no longer pink, breaking it into pieces as it cooks. Remove from heat and drain.
Add scallions and 2 cups mozzarella cheese to turkey and mix all ingredients together. Using a large spoon, evenly distribute turkey sausage into each squash. Top with remaining 1 cup of mozzarella cheese.
Return squash to oven and cook for 5-10 minutes, or until cheese has melted and squash is heated through.