Game of the Week: Romeoville seeks third-straight win at Plainfield Central
Alex Ortiz | 10/13/2016, 10:03 p.m.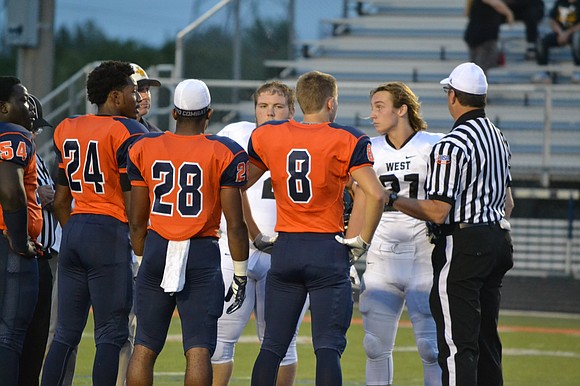 The Romeoville Spartans (2-5) are on a bit of a roll and might be able to finish this season with quite the statement. The Spartans visit the Wildcats of Plainfield Central (0-7) on Friday.
Romeoville comes to play with one of the best running backs in the conference in the Northern Illinois-committed Jordan Nettles. He's been the key cog in an otherwise unspectacular offensive attack but when he gets some blocks he can really make you pay. Two weeks ago at Minooka, Nettles ran for four touchdowns and led Romeoville to its first win of the season.
The offense has really picked up lately for the Spartans. In the team's first four games, Romeoville scored just 11.25 points per game. In its last three, that average is up to 27.3 points per game. On the other hand, Plainfield Central has allowed 35.8 points per game, the second highest rate in the conference.
While an at-large playoff bid might be a bit out of reach for Romeoville, a third-straight win and then a season finale at home against Joliet Central would carry a lot of momentum to close the 2016 campaign.
Friday, October 14
Plainfield North at Plainfield East, 7 p.m.
Oswego at Plainfield South, 7 p.m.
Romeoville at Plainfield Central, 7 p.m.
Thornwood at Bolingbrook, 7 p.m.
Lockport at Stagg, 7 p.m.
Joliet Catholic at Marian Catholic, 7:30 p.m.
Saturday, October 15
Joliet West at Joliet Central, 1 p.m.
Southwest Prairie Conference Standings
Oswego (7-0) (Clinched Playoff Bid)
Oswego East (6-1) (Clinched Playoff Bid)
Joliet West (5-2)
Plainfield North (5-2)
Plainfield South (4-3)
Minooka (3-4)
Plainfield East (2-5)
Romeoville (2-5)
Joliet Central (1-6)
Plainfield Central (0-7)