High school football: Romeoville wins big with record day for running back Nettles
Alex Ortiz | 10/15/2016, 12:05 p.m.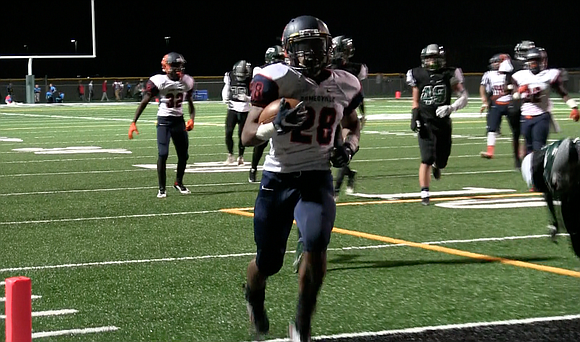 PLAINFIELD - Romeoville running back Jordan Nettles is helping his team finish the 2016 season strong with a 52-14 win over Plainfield Central. Nettles was relentless in the penultimate game of the regular season rushing for 288 yards, the most in a single game in school history. That number puts him at 1,243 yards for the season, already a school record, with one game to go.
"These kids are tough," Romeoville head coach Oliver Gibson said. "This kid is special. I just wish we had a couple more games together."
From the second play from scrimmage from just before midfield, Nettles took the handoff, went up the middle and was gone.
The next drive, Romeoville defensive back Ricky McKinney intercepted a pass and took it into the Plainfield Central red zone. Spartan running back Daytwone Burge punched it in from there to give the Spartans the early 14-0 lead.
Close to the end of the first quarter, Nettles took a handoff at his own 39 yard line and eluded seven tacklers on his way to just shy of the Wildcat goal line. It only took two plays for Nettles to get his second rushing touchdown to make it 21-0. He would score twice more, including a 20-yard run from a direct span from center.
Romeoville also provided some trickery near the end of the first half with a toss to wide receiver/running back Timothy Rodriguez who handed it off on a reverse to Nolan Soper. Soper threw the ball downfield to Tyree Allen who scored to make it 35-0.
The final tally of 52 points is the most scored by the Spartans in a game this season. Despite already breaking records and winning three straight, Nettles is not satisfied and wants to do even more next week for his "Senior Night" against Joliet Central.
"We're going to play hard next week and try to break my record that I broke today," Nettles said. "And hopefully get 300 (yards)."
Friday's local results:
Romeoville 52, Plainfield Central 14
Plainfield North 42, Plainfield East 0
Oswego 21, Plainfield South 0
Bolingbrook 23, Thornwood 16
Lockport 35, Stagg 0