Bolingbrook mosque open house attempts to promote understanding of Islam
Alex Ortiz | 10/16/2016, 10:09 p.m.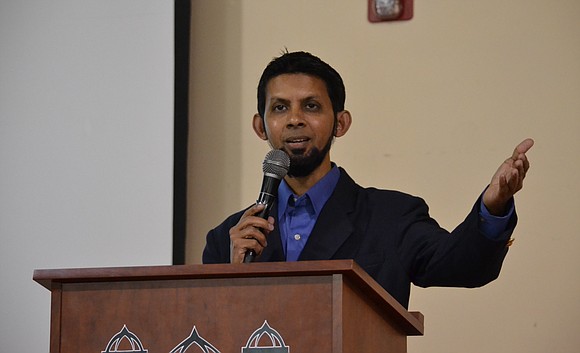 BOLINGBROOK - On Sunday, the Muslim Association of Bolingbrook held an open house event on at the New Masjid Community Center. The group invited any and all community members to come and learn more about Islam and Muslims as a whole.
About 50 people came to take a tour of the facility, hear informational lectures about the history of Islam, the role of women in Islam as well as participate in a Q and A session where visitors could ask any questions they had about issues related to the religion.
"We feel like our religion is negatively being portrayed out there in the mainstream media," said Aamer Abdul-Jaleel, the event's host. "And that affects us. That affects our children, our families, social life, all of that stuff."
Visitors were also provided with literature about different issues and misconceptions about Islam. Some titles included "Islam is Not a Religion of Extremism" and "The Hijab: Reflections by Muslim Women."
The main speaker was Dr. Sabeel Ahmed, the director of Gain Peace which is an outreach program of the Islamic Circle of North America. Ahmed speaks to people around the country and the world to educate the masses about Islam.
"The Quran and the Prophet Muhammad came to promote justice, equality, unity and if you promote all of those important factors the outcome would be peace," Ahmed said. "So I pray to the creator that by us working together, under God's guidance, that we fight against poverty, terrorism, racism, disunity."
The Muslim Association of Bolingbrook is a non-profit religious organization founded in the 1990s to serve the Muslim population of Bolingbrook and the surrounding communities. The group has established two centers of education and community activities in Bolingbrook.
For more information you can visit the group's website at bolingbrookmasjid.com.