2017 Kia Cadenza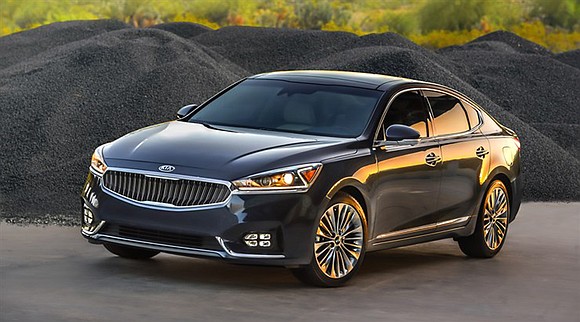 The driver's seat had been lowered. The Cadenza can be equipped with a seat cushion extender that slides and rotates. Heating elements for the front seats were reengineered to more evenly distribute warmth. It was 90 degrees, humid and the heat index approached three figures when we tested the car so we took their word for it.
Of course we had the air conditioner going and the fan was not noticeable, it was pretty quiet, as was the ride. There wasn't much road noise that got into the cabin. The sight lines were really good and the navigation system was easy to use. We went on an unexpected tour of Northern Virginia's Equine sector.
This was a fairly easy drive through the rolling hills here. Road surfaces pretty much didn't change. There were few curves and no switchbacks. Still we got a sense of how the driving characteristics of the Cadenza had been improved.
The 3.3-liter direct injected V6 worked a little to get over the hills. It made 290 horsepower but we think the 253 pound-feet of torque would have helped climbing if the full force had kicked in at something less than 5,300 rpm. The hills were not that steep. The engine was mated to an eight-speed automatic transmission, the first time that many gears had been mated to a front-wheel-drive car. The 2017 Cadenza was rated at 20 mpg in the city, 28 mpg on the highway and 23 mpg combined.
Chassis strength was improved over the outgoing model by using 50 percent more advanced high strength steel. Side body panels were stronger. They used more structural adhesives and hot stamped components that increased stiffness by 35 percent. When engineers do stuff like that it also helps to seal the vehicle and that leads to a quieter vibration free ride.

Engineers used aluminum instead of steel in areas like the front steering knuckles, the chassis was lighter and larger bushing were used on the front and rear sub-frames. Kia said amplitude selective damping shock absorbers maximized comfort without sacrificing stability. That's hard to argue with. Our test car was rock solid, quiet on the road and stable at any speed, or at least the ones we covered during normal driving.
And the steering was quicker and more responsive as Kia replaced the outgoing 16-bit electronic control unit with a 32-bit processor. And it had a better on center feel. We hardly had to touch the wheel. The car stayed planted wherever it was pointed, no mini adjustments were necessary.