Joliet council gives proclamation for Red Ribbon week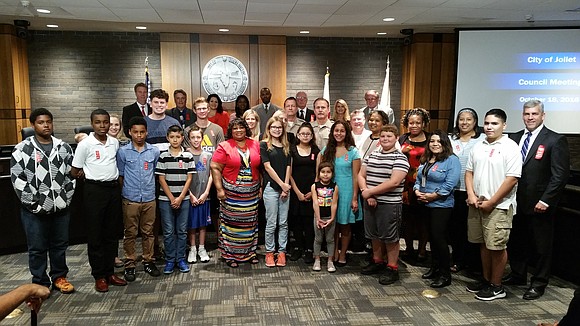 The Joliet City Council approved a proclamation Tuesday declaring October 23-31 as Red Ribbon Week.
The theme of the 2016 anti-drug campaign is "YOLO (You Only Live Once) Be Drug Free."
Cherry Powell, who has been a coordinator with the campaign over the past 30 years, said that the proclamation shows the city's ongoing commitment to maintaining a drug-free community.
Powell first became involved with the campaign when she was a pre-K teacher "and saw an opportunity to help families in our community."
The national Red Ribbon Week started in 1985 following the torture and murder of 37-year old DEA agent, Enrique Camarena in Mexico. "We honor him and stand here drug free," said Powell following a reading of the proclamation by councilwoman Bettye Gavin Tuesday.
Also at Tuesday night ceremony members from the Lockport Homer and Will County Coalition for Substance Abuse Prevention along with 25 area children came in support.
"Red ribbon is the symbol to show that we are drug free," said Powell.
"Proof that Joliet wants to be a drug free city for our youth."