High school football: Joliet Central wins thriller at Romeoville
Alex Ortiz | 10/23/2016, 3:32 p.m.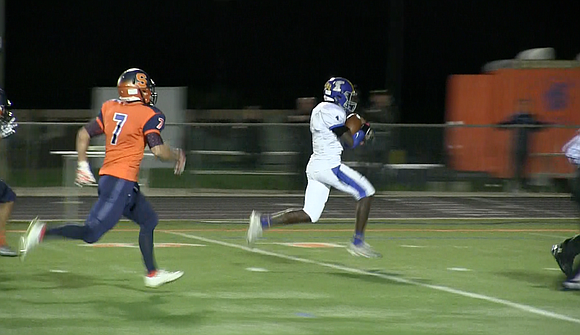 High school football: Joliet Central wins thriller at Romeoville
By Alex Ortiz
ROMEOVILLE - It was certainly a wild one on Friday with history being made yet again as Joliet Central notched the team's second win of a season in which the team broke their five-year losing streak.
The Romeoville Spartans opened the game strong with a 12-0 lead in the second quarter but the Steelmen answered right back every time.
Joliet Central wide receiver/defensive back Jomarre McNair had a big game on the ground taking the direct snap from center and running right into the line and past the entire Spartan defense multiple times. With a touchdown pass to Nolan Soper before halftime, Romeoville retained a 20-14 lead at halftime.
McNair opened the second half with another rushing touchdown. Then when Romeoville got back on offense, he intercepted a pass and the Steelmen were able to capitalize and take the 28-20 lead off a passing touchdown from Zachary Wisneski to Zach Schraer.
Romeoville would continue to come back but the Steelmen would continue to stay one step ahead. McNair scored on a third long touchdown run to go ahead 42-34 in the fourth quarter.
"He's a football player," Joliet Central head coach Brett Boyter said. "That's all you can say about him. That's all you need to say about him."
The Spartans had one last play in them with yet another Soper touchdown catch that saw him jumping over a couple of defensive backs.
But a botched snap on the attempted 2-point conversion to tie the game fell short and Romeoville ultimately failed to put away the Steelmen. The final score was 42-40.
"You have to credit where credit is due," Romeoville head coach Oliver Gibson said. "Joliet Central played the game of their lives."
This week's local results:
Joliet Central 42, Romeoville 40
Plainfield North 47, Joliet West 7
Oswego 43, Plainfield Central 6
Oswego East 46, Plainfield East 9
Minooka 39, Plainfield South 20
Homewood-Flossmoor 28, Bolingbrook 10
Marist 41, JCA 7
Lincoln-Way East 28, Lockport 0
Final Southwest Prairie Conference standings:
Oswego (9-0)
Oswego East (8-1)
Plainfield North (7-2)
Joliet West (6-3)
Minooka (4-5)
Plainfield South (4-5)
Romeoville (3-6)
Joliet Central (2-7)
Plainfield East (2-7)
Plainfield Central (0-9)