Local school programs look to combat bullying
Alex Ortiz | 10/27/2016, midnight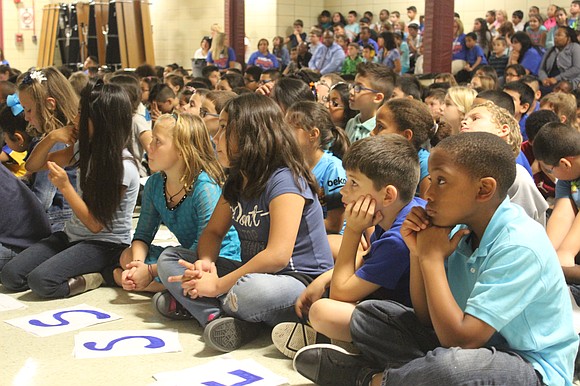 In a 2014 government study, it was found that between one quarter and one third of U.S. students, mostly in middle school, have experienced bullying. The study also found that bullying results in negative effects like depression, anxiety, changes in sleeping and eating patterns, decreased academic success and school participation. Bullying is defined as "when someone repeatedly threatens, harasses, mistreats, or makes fun of another person (on purpose)."
That is why local school districts have been making more of an effort in recent years to try to combat bullying and teach students and parents more about the issue. Recently, the Joliet School District held an event at Taft Elementary with Illinois Secretary of State Jesse White and local author and Joliet native Brandye Phillips to kickoff an anti-bullying campaign.
Phillips wrote and published a book entitled "Don't Be a Bully" to help teach kids about the adverse effects of bullying and the importance of reporting incidents of it.
"I want to try to help empower kids from the time that they're small," said Phillips, who was named a spokesperson for the campaign.
"This book is a coping strategy to help people deal with real life and help people deal with aggressive behavior."
Phillips will be speaking to kids around the Joliet School District about bullying using her children's book about Charlie, who is bullied for winning a science fair award.
In the age of social media, cyberbullying is a target of these anti-bullying programs. The Cyberbullying Research Center released a study that found that about 34 percent of the over 15,000 respondents said they have been cyberbullied. Almost two-thirds of those students (64 percent) said that it affected their ability to learn and feel safe in school.
Valley View School District has partnered with a bullying reporting system called Sprigeo in which incidents can be privately reported. The district also has licensed clinical social workers like Kathy Batistich to help students who are dealing with bullies working in the schools.
"It is very serious," Batistich said. "It can have lasting effects into adulthood if it is not addressed or when you're basically being victimized. You feel powerless because you feel that there is nobody there to help you and we really want to turn that around."
Batistich also thinks that while programs like those in Valley View are good to have, the conversation needs to take place at home as well. Experts say that parents should guide their kids through appropriate uses of the internet and their online behavior. Parent should also be able to monitor their child's online activity.
"Really at the end of the day, the best thing you can do is have a good talk to your kids," she said. "Have a good relationship where you're able to be open and mindful, watchful of what they're doing. So really that communication piece between parents and their children is key."
For more information about bullying and how to help, here are some helpful websites.
Basic facts about bullying:
stopbullying.gov/news/media/facts/
Resources for Valley View School District parents:
Resources for Joliet School District parents
joliet86.org/students-parents/preventing-bullying-intimidation-and-harrassment/
Facts about cyberbulling:
Long-term effects of bullying: