High school football: Plainfield North dominates in first round of playoffs
Alex Ortiz | 10/29/2016, 7:10 p.m.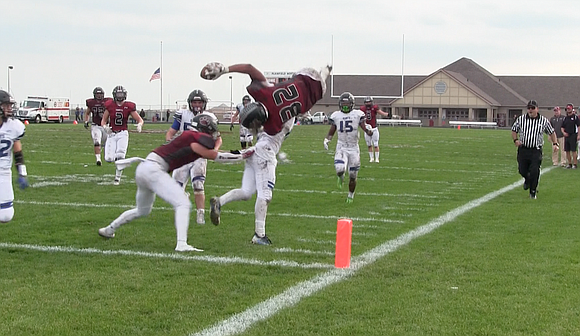 PLAINFIELD - The Plainfield North Tigers (7-2) dominated their first round opponent Highland Park 42-0 in the program's first home playoff game on Saturday.
"All phases were executed and played well," said Plainfield North head coach Tim Kane.
The Tigers were dominant right from the start with a 14-0 first quarter. They added another two touchdowns before halftime to make it 28-0 and Highland Park never really threatened to come back.
Running back Tyler Hoosman stole the show with 140 rushing yards and three touchdowns. He also scored on a reception that he ran 20 yards to the goal line and ended with a front flip past the pylon.
"I actually do long jump in track," Hoosman said. "So I knew I had the height. It was really just instincts."
Even his coach was impressed with the finish.
"We worked on that," Kane joked. "He didn't quite get as high as I did."
The shutout was also the team's fourth in its last five games and the victory the team's fifth straight going back to Sept. 30. Plainfield North has averaged 41.4 points per game during that stretch including Saturday's win.
"Our kids just continue to buy in and continue to be coachable," Kane said. "They can make adjustments during the game."
"They're smart football players."
The playoff win was the first one in the program's history. Plainfield North will travel to Bradley-Bourbonnais (10-0) for the second round of the IHSA playoffs next weekend.