Ribbon Cutting at the Joliet McDonald's on Broadway
9/1/2016, 6 a.m.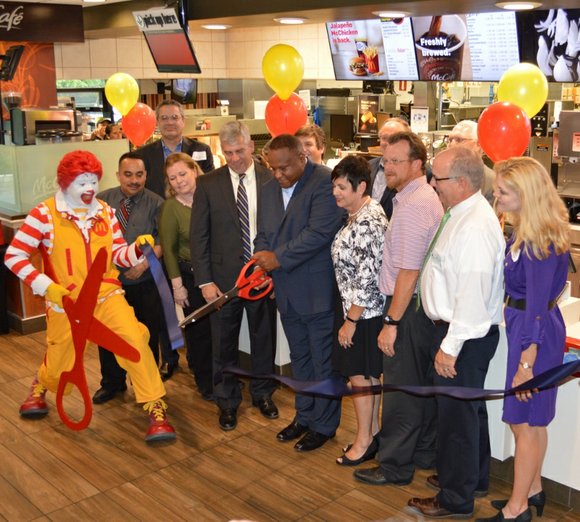 The McDonald's located at 1555 N. Broadway celebrated their grand re-opening with a ribbon, cake cutting and VIP party on Thursday night, August 25th. It was a big crowd at McDonald's. Marvin Spence, owner operator, is proud to bring Joliet an
upscale new McDonald's for the community to enjoy for years to come. At the VIP
party Marvin Spence welcomed friends, colleagues, City employees, Joliet Chamber
members, and representatives from the local schools for a special grand opening VIP
event.
State Representatives Natalie Manley and Larry Walsh Jr. gave presentations. They both thanked Spence for being a part of Joliet. Mayor O'Dekirk also spoke and expressed how thrilled the city is to have him at this location and for his involvement in the community. Marvin Spence commented that he was honored to have so many Joliet VIP's to share in the celebration. Additional speakers at the event included Jim Carras, McDonald's Chicago Region Vice President and General Manager and of course the owner, Marvin Spence.
The event featured complimentary McDonald's appetizers, and smoothies and of course the cake. Also, the famed Ronald McDonald made a special appearance and a big thank you was offered to Mike Paone, Vice President of the Joliet Chamber and to Danielle Blake, Joliet Chamber Account Executive for coordinating the ribbon cutting at the party. The community is invited to stop in and see the new look of the McDonald's also to take advantage of all the grand re-opening events, which are scheduled to run through September 11 at the restaurant.