Games of the Week: Plainfield North at Oswego; Plainfield South at Joliet West
9/2/2016, 9:03 a.m.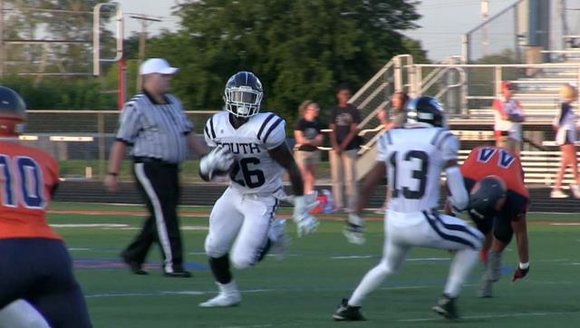 On Friday, Plainfield North will travel to Oswego as both teams come in off of week 1 wins.
Oswego won the Southwest Prairie Conference at 9-3 in 2015 and Plainfield North came in 2nd place at 6-4. The Tigers actually defeated the Panthers in last year's contest 37-25 at Plainfield North but failed to capture the conference title.
"I think our kids need to come out and play with a little bit of a chip on their shoulder, a little edge," Plainfield North Head Coach Tim Kane said.
The Tigers dominated in their first game last week against Plainfield Central winning 40-7. Plainfield North dominated in all aspects of the game, especially on special teams. Defensive back Dillion McCarthy had multiple long kick returns setting up the Tigers in great field position.
In Saturday's lone area matchup, Plainfield South will travel to Joliet for only Joliet West's second game as a member of the Southwest Prairie Conference. The Cougars are coming off of a dominant 35-9 win at Romeoville last week. Joliet West lost 49-14 against Oswego East.
While mostly known for defense, the Cougars were able to put on an offensive show last Friday. The new head coach, Bill Bicker, lauded his offensive unit at all levels including quarterback Nicholas Deppe and the offensive line. He said it took a while but Offensive Coordinator Adam Chavez's unit showed how much they've improved.
"He works so hard with those guys and has developed a great relationship with them," Bicker said. "He's instilled a great work ethic in them to get better."
Joliet West is playing its first full season in the conference, but they are familiar with its new rivals in non-conference play in past seasons. West is a relatively young team but they are trying to make their mark in their new conference. Head Coach Jason Aubry said he was still trying to figure out his team's identity but even in defeat he found that his team can have an aggressive offensive identity if they remain on the attack.
"We just didn't play the way we should have played," Aubry said. "We need to start fast and doing a better job of coming out and attacking instead of sitting back and being conservative."
Week 2 Games:
Friday, Sept. 2
Minooka (0-1) at Joliet Central (0-1), 6:30 p.m.
Plainfield North (1-0) at Oswego (1-0), 7 p.m.
Plainfield Central (0-1) at Plainfield East (1-0), 7 p.m.
Romeoville (0-1) at Oswego East (1-0), 7 p.m.
JCA (0-1) at Wheaton North (1-0), 7 p.m.
Bolingbrook (0-1) at Bishop McNamara (0-1) 7:30 p.m.
South Elgin (0-1) at Lockport (1-0), 7:30 p.m.
Saturday, Sept. 3
Plainfield South (1-0) at Joliet West (0-1), 1 p.m.