NASCAR CAMPING WORLD TRUCK SERIES DRIVER VISITS LARAWAY SCHOOL TO KICK OFF RACING TO READ PROGRAM
Middle school students to embark on a reading adventure to enrich and enhance the educational experience during the 2016-17 school year
9/8/2016, 6 a.m.
Chicagoland Speedway visited Laraway School District 70C today with a special guest to help kick off the motorsports-themed reading program, "Racing to Read." Fresh off his Sunday win, NASCAR Camping World Truck Series driver John Hunter Nemechek accompanied Chicagoland Speedway president Scott Paddock to inform the sixth, seventh and eighth grade students of the return of this educational initiative.
Nemechek delivered two tickets to each student for the American Ethanol e15 225. With the tickets, students are able to visit the speedway with a parent or guardian on Friday, Sept. 16 to watch their Nemechek compete for his place in the NASCAR Camping World Truck Series Chase.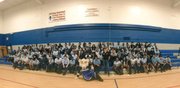 John Hunter Provided Two Tickets to Each Student to Attend Next Weekend's Race
Racing to Read was created in 2015 to encourage the sixth through eighth grade students at Laraway School to read frequently and efficiently. An education-focused, incentive-based competition kicks off today and will run throughout the school year. The program once again begins in unison with the anticipation of the NASCAR Sprint Cup Series weekend at Chicagoland Speedway Sept. 15-18.
"In partnership with Laraway School, Chicagoland Speedway has worked collaboratively to provide a program for students that will not only enrich and enhance their educational experience, but will do so in a fun and engaging manner as well," Scott Paddock said. "By utilizing a connection to sports and a well-known, nationally recognized venue in the school's own backyard, we can encourage children in our community to excel academically."
Throughout the 2016-17 school year, students will work to read and comprehend as many Achieve articles as possible. Achieve is an online program that seeks to engage all learners by appealing to each individual's reading level. In doing so, the program is able to consistently challenge the student and thus, improve his or her literacy skillset.
As part of the Racing to Read program, students will visit the track prior to the NASCAR Sprint Cup Series I-Cash Pole Qualifying on Friday, Sept. 16. The students will have the opportunity to view various weekend amenities such as Champions Park with its extensive Nickelodeon Kids' Zone. One of NASCAR's young stars will also speak with the students during their time at the track as part of NASCAR Acceleration Nation, the sport's first-ever national learning and entertainment platform created just for kids.
The NASCAR Acceleration Nation experience utilizes the in-school Science, Technology, Engineering and Math (STEM) program to impact children at race venues across the nation. Lessons and materials used in the STEM program were designed specifically for elementary and middle schools students and focus on the NASCAR Three D's of Speed: Drag, Downforce and Drafting.
Acceleration Nation's footprint was designed to entertain and inform children and families during numerous NASCAR national series race weekends including Sept. 15-18 at Chicagoland Speedway. Kids can partake in this interactive experience throughout the weekend to learn more about the cars competing on the race rack.
Racing to Read's second year will run through four "turns" or quarters, finishing on May 5, 2017. At the end of each "turn" the winning class will host the program trophy and receive various prizes from Chicagoland Speedway.
The Chase for the NASCAR Sprint Cup Series weekend at Chicagoland Speedway, Sept. 15-18, will begin with the addition of ARCA Racing Series on Thursday evening followed by the American Ethanol E15 225 NASCAR Camping World Truck Series race under the lights on Friday night. On Saturday, Sept. 17, the NASCAR XFINITY Series will hit the track as the precursor to Sunday's NASCAR Sprint Cup Series showdown, the first race in the Chase for the NASCAR Sprint Cup.
Tickets can be purchased online at ChicagolandSpeedway.com, by calling 888-629-RACE, through the Chicagoland Speedway mobile app, or by visiting the Chicagoland Speedway administrative office Monday-Friday 8:30 a.m. – 5:00 p.m.